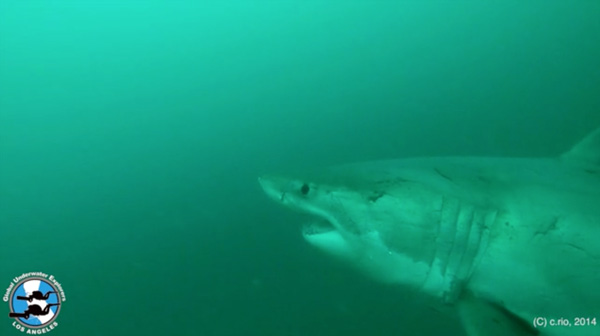 Two years ago, a group of divers from Los Angeles area (LAUE: Los Angeles Underwater Explorers) started a project to clean up the wreck of the Infidel at Catalina. Their goal was to remove all the fishing nets which covered the wreck and regularly trap marine life (seals, sea lions, and even birds). The wreck seats under 150ft of water, which makes the cleaning work challenging and requires lots of caution. Strong dive teams are a must, and it's a very rigorous process.
While the Infidel lies in only moderate technical diving depths, it's still considered an advanced dive. The wreckage happens to be just the right distance from the island to at times have a veritable freeway overhead. Because trolling fishing boats, jet skis, charter and sightseeing boats all seem to track overhead, this is definitely not the place to surface without a down line.
After many dives to remove nets and other debris on the Infidel, the wreck is starting to look much better, and new marine life is moving in, including lobsters, nudibranchs, and wolf eel.
Too Close for Comfort. A Great Wonderful Summer (GWS) experience from Cyrille R on Vimeo.
On Aug 23rd, 2014, new missions were set to both continue removing the nets (and a lot was removed again), and also to document the new life on the wreck. Unfortunately, the visibility wasn't very good for still picture, even video.
On the way back in, Landyn Froelich and Cyrille Rio divers had a chance to have the company of a Great White Shark, measuring approximately 16 to 20 feet long.
"She checked us out very closely and tagged along for 4 minutes".
It was a few minutes of excitement and of course a bit of chill, knowing that they had a long time to get to the surface.