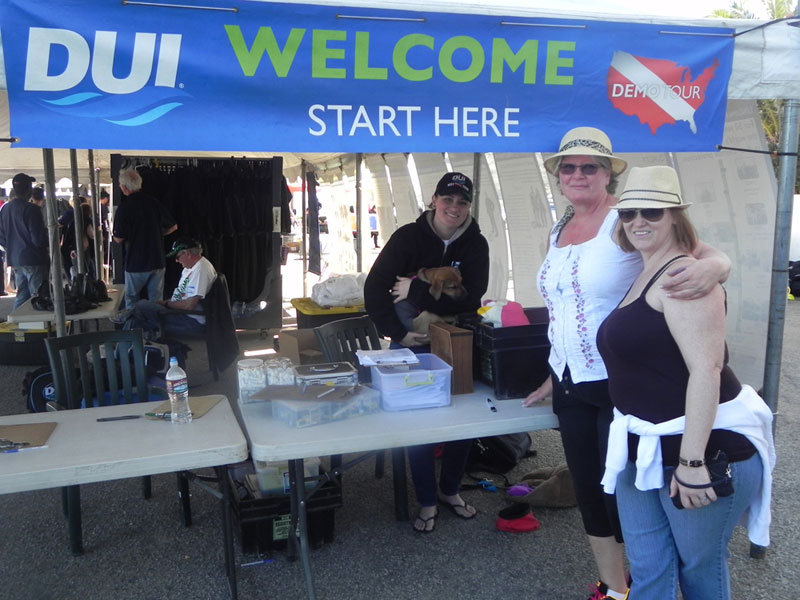 For 18 years, DUI has traveled around the USA bringing the drysuit diving experience to over 30,000 divers. Working with the DUI dealers in the area, DUI puts up two circus tents and then fills them with equipment designed and manufactured by DUI, the world's leader in drysuits.
On Saturday and Sunday, March 21-22, DUI is hosting their Demo Tour event on Catalina Island. The two-day event includes drysuit dive demos and a BBQ lunch. If you choose to try diving a DUI drysuit, the DUI Crew will fit you with ZipSeals, DiveWear Insulation, DUI Drysuit, RockBoots and more. They also have DUI Weight & Trim Systems, Hoods, ZipGloves and even extra fins if yours don't fit.
At the water, you will be assigned a dive guide who will show you the basics of how to use the drysuit and take you for a dive. You will stay above 40 feet deep and only do what you feel comfortable doing.
Divers need to remember to bring their certification cards, swimwear, regulator, BC, mask, fins, snorkel, tanks, and weights.
This event is very popular and advance registration is highly recommended. Tickets ($15) can be purchased here, and a downloadable PDF describing the weekend's activities can be downloaded here.
Participating DUI dealers include Scubatude in Santa Clarita, Catalina Scuba Luv, House of Scuba in San Diego, Bakersfield Scuba, Ultimate Dive and Travel in Scottsdale, Arizona, The Scuba Center at Camp Pendleton, Oceanside Scuba & Swim Center, Dive and Photo in Irvine, Get Wet Scuba from Palm Springs, Rick's Diving Locker of Escondido, Hollywood Divers, San Diego Divers, Pacific Wilderness, and Beach Cities Scuba Center in Dana Point.