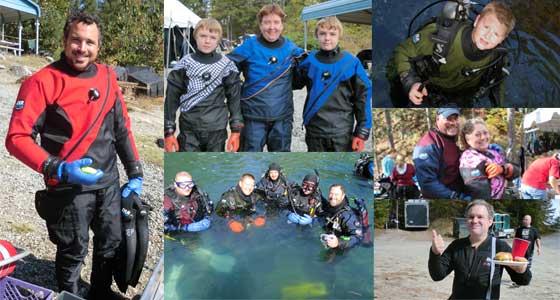 Join the team from DUI this weekend in Monterey at DUI's DEMOTOUR.  As a certified diver, you can test dive DUI Drysuits, DiveWear insulation, weight & trim systems and DUI's BlueHeat heated divewear insulation.
DUI has traveled around the USA conducting these events for the past 17 years. Working with the DUI dealers in the area, they'll put up two circus tents then fill them with equipment designed and manufactured by DUI. The gear is then available for divers to try on and even test dive.
This weekend's event begins at 9am on Saturday and Sunday at San Carlos Beach Park. If you're interested in diving a new suit, come prepared with your regular dive equipment except for your suit. After you go through registration, a DUI representative will fit you with everything you need to dive dry. You'll go in the water with a dive leader (so you don't need to be drysuit certified) who will show you the basics on how to use a drysuit.
Tickets are $15, which also includes BBQ lunch, commemorative DUI test diver hat, opportunity to meet and be fitted by DUI factory professionals, see all of DUI's accessories, fabric color swatch samples and more.
Tickets can be purchased online or at participating DUI Dealers. For more information on this event, visit DUI's Demotour website by clicking here. Tickets to the event can be purchased by clicking here.