A California company has launched a Indigogo campaign to raise money for production of a unique new flotation device, aimed at reducing drownings. While it may not not be a future part of essential scuba gear, it will be interesting to see how well the device works in preventing drownings in other water sports.
Kingii is a wrist-mounted portable floatation device that has the ultimate goal of reducing global drowning rates, which have grown to 372,000 a year. The tool secures to a user's' wrist to "provide the reliability of traditional life vests without restricting mobility during water activities". When needed, the Kingii uses a CO2 cartridge to instantly inflate a flotation device to help users swim back to safety. Kingii is aiming for the device to be used in swimming, sailing, surfing, kayaking, paddling, fishing and other activities in, or around, the water.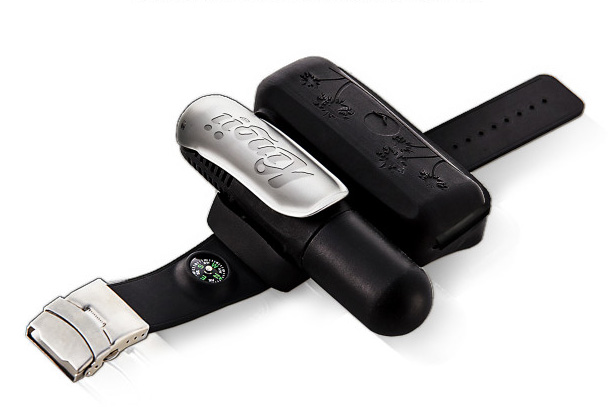 "The founder of the Kingii was inspired from the tragic loss of a friend.
"After I lost a friend in a preventable drowning accident, I developed Kingii as a way to promote the importance of water safety and, hopefully, end this type of tragedy once and for all"," said Tom Agapiades. ""Kingii is the perfect alternative to life jackets for beginner and advanced swimmers of any age.  Now, for those who would previously forgo wearing a life vest, they can have the same security without the restrictions or discomfort.""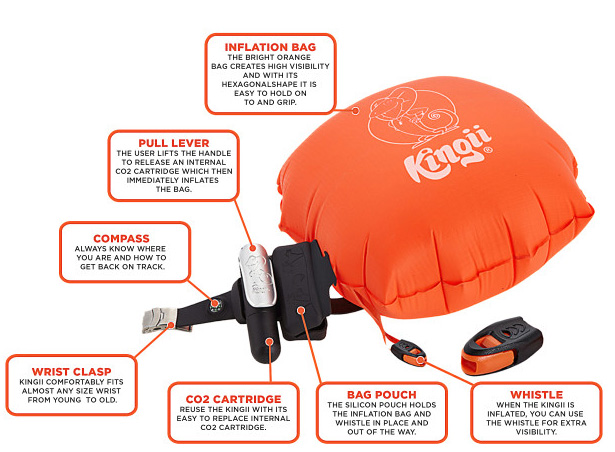 Kingii's contains a durable, nylon inflatable stored inside a small pouch next to a CO2 cartridge (which they call the Kingii Cylinder). When the lever on top of the wristband is pulled, the Kingii Cylinder is triggered to fill the floatation device. The Kingii also has an attached whistle that can be blown to draw attention to the user, and its built-in compass reorients the user and directs them back to land. Once the used Kingii Cylinder is removed, the Kingii is deflated and packed back into the pouch. The reusable Kingii is ready to save another life when a new Kingii Cylinder is installed.
The Kngii will sell for $69, and is currently funded 631% on Indiegogo.com. For more information, visit www.kingii.us or www.kingii.eu.