If you're looking for a comfortable, lightweight drysuit that's especially suitable for travel, you might want to check out Waterproof's new D6 drysuit.
Combining durability with lightweight materials, the D6 is great for divers who need of a lighter weight suit or travel suit. The D6 is made with a RipStop nylon-based trilaminate with a 100gr butyl coating. Waterproof's new TIZIP flexible dryzipper reduces weight while allowing for a more flexible fit. A pair of XLITE Flexboots (attached to the suit) also reduce the overall weight, but still provide durability and protection.
The benefit of a lightweight suit is not limited to travel; it also greatly improves ones diving experience by providing flexibility and a more freeing feeling underwater.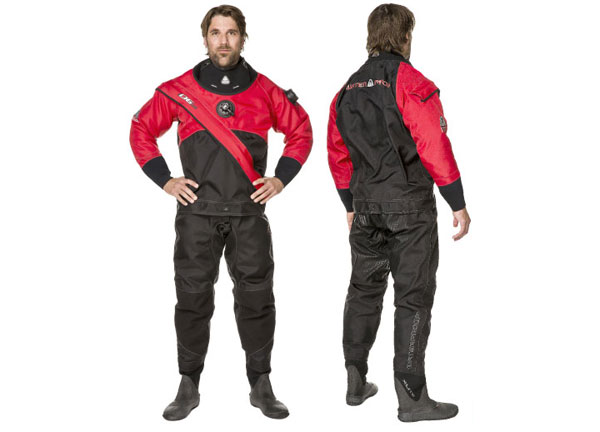 To keep the water out, the D6 features latex seals and the WarmNeck system with molded fastener tabs. The suit includes suspenders, has a telescoping waist with a crotch strap, and many other great features worth checking out.
Some of the key features of the D6 include:
Ripstop Nylon Tri-Lam Shell – RipStop nylon-based trilaminate with 100 gr butyl coating
SI TECH Valves – Swiveling inlet valve and adjustable automatic outlet valve
Flexible Dryzipper – Light and flexible TIZIP MasterSeal 10 zipper
Telescope Torso – Suspenders and the adjustable torso system enables the diver fit the suit to their liking.
Warm Neck System – The unique warmneck solution from Waterproof with water drain valves and molded hook and loop fastener tabs
Cordura Knee Reinforcement – The knees are made of heavy-duty Cordura fabric
XLITE Flexboot – Extra light and flexible boot with finstrap ridge and a narrow fit
Waterproof Carry/Storage bag included
The D6 is available in male: S, M, ML, L, XL, 2XL and female sizes of XS, S, M, ML, L, XL. The suit is available now at an MSRP of $1,800.