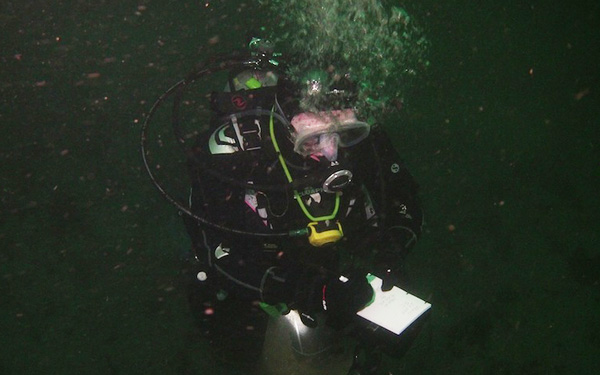 Wetnotes… Sure, you've heard of them, but they're for tech divers to keep all their dive and deco plans at hand, right? Not so, as many recreational divers have found – they are so handy that I find myself using them for more and more dives as I progress in my diving adventures.
Words & Photos by Tim Lund
What are Wetnotes?
Offered by many scuba equipment manufacturers and suppliers, Wetnotes are simply a reusable notebook with waterproof pages to write on; typically with a pencil on a leash and quite often with a heavy-duty cover to protect the pages. They're not paper, but more of a very thin plastic page that you write on with a pencil and then wipe it clean when done. These pages are pretty dang tough and do not tear easily, so they will last for many, many dives. When you do finally need to replace them, you simply purchase a refill to go into your cover.
What can you use them for? Besides just using them for more involved communication, Wetnotes are a handy place to keep your pre-dive checklist, a list of skills and drills to practice during dives or compass headings for finding wrecks or reefs? Underwater photographers, science divers, and instructors may also find them useful.
What have I been using them for? So far, I've used them for mapping dive sites, drawings of critters for later ID, and lately, taking notes during SAC rate tests. They've proven to be valuable on almost every dive I've done.
Caring for Wetnotes is easy – just rinse them out with the rest of your gear and hang to drain, take a rag and do a quick wipe across each of the pages, then hang to dry.
The OMS Wetnotes Lowdown
• Nylon cover w/ transparent pockets & elastic retaining strap
• Carbon pencil
• 30 page refillable notebook
• Price: $29.00 USD
For my first venture into using Wetnotes, I picked up the wet notes offered by OMS. I had seen them at a local dive show and between the nylon cover with transparent pockets, pencil on a leash and a 30 page notebook, they looked perfect for the beginner or experienced diver.
Where I've really found the OMS Wetnotes to come in handy is dive site mapping and planning. I'll draw a basic sketch of the dive site (if known), including depths and contours and then go over it with the team so they have a visual reference of the site. Then we will add to the drawing during the dive as we find more features.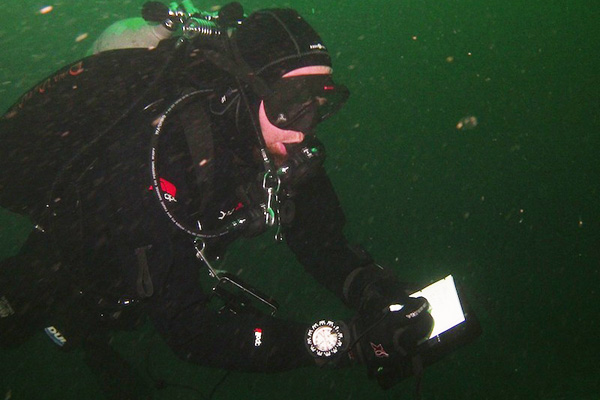 SAC (surface air consumption) tests are another function I've been using the wet notes for. As a newbie diver, I'm testing my SAC rate every twenty or so dives to help get a better grasp on how much air I'm using for future dive planning. With 30 pages in the notebook, there is plenty of room to spare for everybody on the dive.
One of the first things we recommend is to flip to the last page and add in your personal and ICE (in case of emergency) information. If you lose your wet notes, a finder can get a hold of you. By listing your ICE, if something a little more serious happens, the emergency personnel can get ahold of those that need to know. You could also add in any medical information if you require special treatment.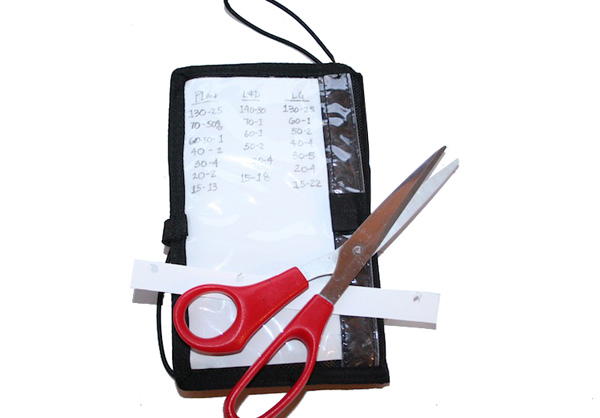 The backside of the OMS Wetnotes cover has a transparent pocket to hold any notes you need to quickly reference. I pulled out one of the wet note pages, trimmed it down to fit the pocket perfectly and can then change the info as needed. This is where the tech guys usually store their deco schedules.
Wetnotes can also be used to communicate with people at the surface. Use a hole punch to add holes to the corner of a couple wet notes. Tear the page out, attach it to your SMB and send your message on up. I've added a couple small zip ties to the inner pocket of the notebook to help secure a note to an SMB, if needed.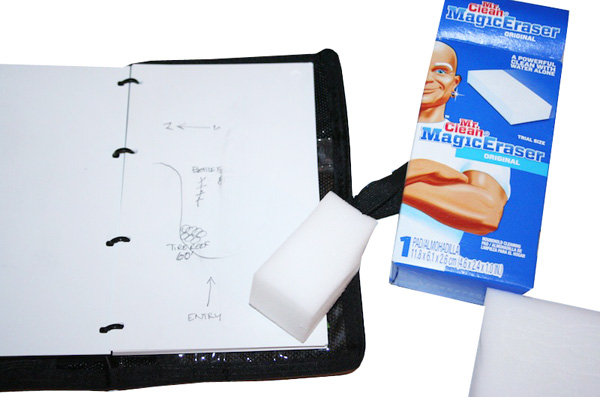 When its time to erase your notes, get a box of Mr. Clean Magic Eraser, they are very inexpensive and clean the wet note pages better than any other trick I've tried. Just wet the eraser with a little water and it wipes away your notes like magic (pun intended). The eraser comes as a large block, so we cut it into smaller chunks and throw a couple in our dive box.
Wetnotes are a very effective and convenient way to carry notes down underwater with you and communicate with fellow divers, both above and below the surface. They're also great for boaters, naturalists, and campers. If you don't already own them, consider adding a set to your kit.
Words & Photos by Tim Lund
Underwater pictures taken with a Sea Life Micro HD +

____________________________________________________________.