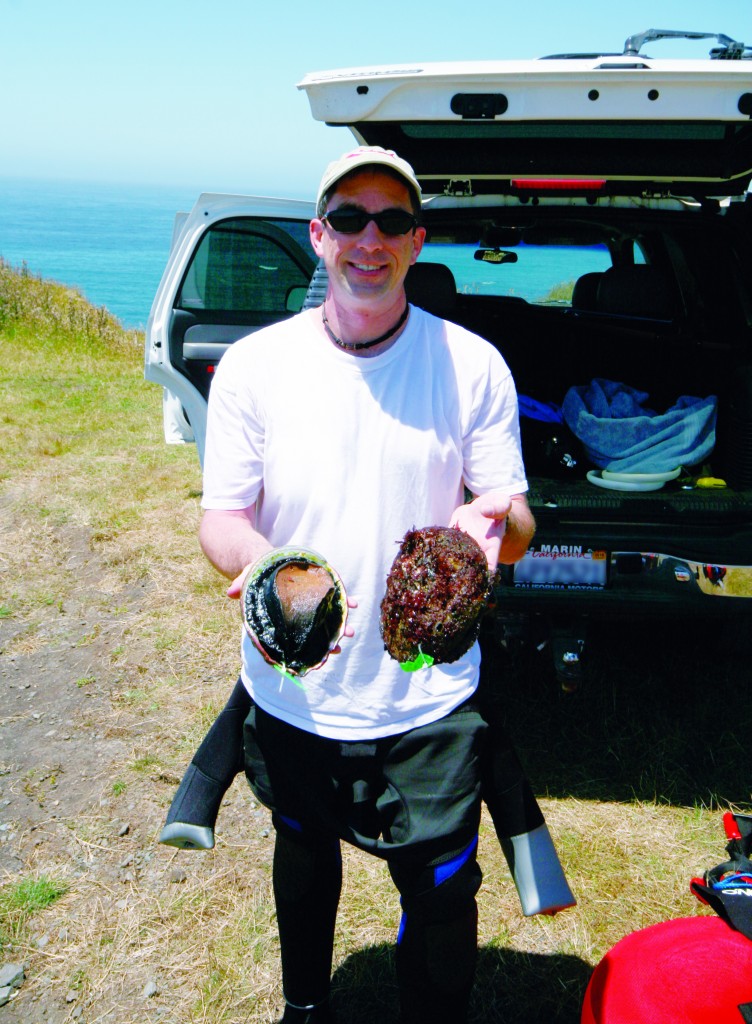 Another Abalone season is opening soon, with closed parks, limited services, and totally different abalone tags for 2011.  What's a diver to do?  In this article we will look at a dozen Sonoma County public dive sites with depth and ability ratings, demystify the new tags, and explain some basics that will help keep you safe, legal, and successful in your search for abalone.
Every diver has his or her own depth they're comfortable diving in, and some of us have different depths on different days.  This article will sort dive sites into three depth categories:
Shallow: This suits your basic 15 feet for 15 seconds diver – those with longer bottom time can enjoy long unhurried searches for that special abalone.  This zone covers all those nooks and crannies a little too deep for rock picking.  Low surf and high tide are best to avoid getting sloshed around.  Nothing sucks like finding that "monster" and two seconds later the surge takes you into a new zip code.
Special free diving gear is not needed in shallow water, and only the wetsuit will have any benefit.  Long blade fins will crash you into the bottom in two kicks.
Middle:  This suits your 30 feet for 30 second diver.  At this depth, lung compression helps with oxygen assimilation and shallow water blackout is possible on ascent if you stay down to long.  On the plus side, longer, less hurried explorations are possible, and the urge to breathe disappears for a time.  When diving middle and deep water exclusively, you can shed the extra 2-4 lbs of lead needed for shallow dives, making your surface time nice and buoyant.
You will want a low volume mask at these depths, and if using scuba fins they need to have a decent kick to them. A full set of free diving gear is very nice, but not necessary at middle depths. A rubber weight belt that compensates for depth becomes important right around 30 feet due to wetsuit compression.
Deep:  This suits your 50 feet for 50 second diver who has maxed out the safe recreation limits of abalone diving.  Shallow water blackout is a serious risk if proper technique is not used, and cannot be entirely eliminated, even with perfect technique.  This depth transitions into the skills of technical free diving and appropriate instruction is very important. (See sidebar Performance Free diving comes to the North Coast). It is very easy to over-dive your oxygen at this depth.
At the very minimum, you must have long blade fins, a rubber weight belt and an ultra low volume mask.  You will also want a freediving style wetsuit for maximum warmth, and to be as streamlined as possible in the water.
From South to North, My Favorite Sites
Starting North of Jenner, the coast is ruggedly inaccessible – the so-called Lost Coast of Sonoma County. Abalone are generally few and far between here, and shallow divers will not be happy diving here.  Solid middle and deep divers looking for a wild, rugged experience will love this part of the coast.  If you only dive for the abalone, this isn't your area.
Pedotti's & Reef Campground (Mile Marker 31.37)
At mile marker 31.37, the entrance to reef campground marks the first really good all around dive site.  It's closed until July 1st, so April to June divers need to park on the side of highway one.  Make sure you stay clear of the white "fog line" on the road to avoid a ticket.
Pedotti's is the left fork of the gravel road that ends at a bluff top gravel parking lot. The outer rocks in plain view are Fort Ross Reef.  If waves are breaking over the reef, go somewhere else, as this is not a good rough water site.  Two trails lead down from the parking lot. One goes straight to the cove below where middle depth divers will find plentiful abs eight to nine inches at 25 feet.  Too the left past a creek, and along a cow fence is a trail that drops in on the south side of a rocky point.  Enter between the base of the trail and the point to avoid a section of tangled Eel Grass. Shallow divers will find a mix of seven to nine inch abalone in the kelp bed directly off the point.  If you don't see abalone on your first dive, you are too close to land. Go toward the reef in 15-foot increments.  If it gets too deep for you, move south to shallower water.  Deep divers should go out around the reef and dive the backside when conditions are safe.
Reef campground is the main (paved) fork in the road.  Hike to the parking lot at the end where you'll have three choices:
Left of the parking lot is a small saddle leading to a large cove (south cove).  This is usually the most sheltered site in the Pedotti's Reef area.  Shallow divers should work the outer edges of the cove and out to the point finding 7 to 8 inch abalone look in-between the rocks (a flashlight is helpful).  Middle divers should hit the center where 7 to 8 ¾  abalone can be found on the tops and sides of bottom structure rocks.
To the right of the parking lot is a narrow trail through bushes that will snag fins off your float.  At fifty feet, the trail forks the left fork going down a ravine to the north cove.  Enter between some rocks only if there are no waves breaking in the cove, as this cove can be nasty.  Shallow divers work left along the rocks to the point – the right side shallows are poor.  Look between the rocks (a flashlight is helpful).  Middle divers hit the center of the cove where 7 ½ to 8 ½ abs are common.  For larger abalone up to 9 ¼",  take your time looking under the structure and in the deeper holes.  A longer bar 12' or more is helpful. Try measuring your abalone the "wrong way", and if the short side is 7 inches you have a nice big abalone. Deep divers hit the outer edge of the kelp-stay on the ocean side and work the line of rocks which the outermost kelp are anchored to – you will like what you find.
The third fork leads up some dirt stairs to a bluff top trail-you can see the "Onion Dome" at Fort Ross.  Follow the trail to the point that forms the north edge of the cove; a goat trail and some scrambling lead to a "sheep dip" entry between two huge rocks.  Middle level divers work the inshore kelp bed north of the point 7 ½ to 8 ¾ abalone can be found at 25 to 30 feet.  Pick and choose a nice thick round one if you want more meat (up to 2 lbs after cleaning)  Deep divers work the outer edge of the kelp bed north and off shore where 9 to 10 inch abalone are few and far between at 45 feet separated by long stretches of lifeless gravel.  If you look north, you can just see a big sandy beach. There is a great dive site south of that beach, but it is best accessed from Fort Ross.
Fort Ross (Mile Marker 33.00)
Fort Ross is the first semi-open dive site as you travel north on Highway 1. It now has reduced weekend hours of 10:00 am to 4:30 pm, and the gate is locked at all other times, so plan accordingly.
Fort Ross has a main parking lot on the bluff back from the water, and a gear drop site at the big sandy beach.  Tank divers love the drop off feature leading the nickname "Fat Man Beach" At the south end of the beach is an easy entry on sand that tucks into the sheltered water of a huge kelp bed. Divers of all depths will readily find abalone 7 to 9 inches in this vertical garden.  These "calm water abalone" are often easier to detach making this a great site for taking kids or beginners if they're qualified. On rough days, go deep in the kelp if that's safe for you, you will be surprised how much calmer the water gets.  This is a great spot when you just want to enjoy the dive.
At the north end of Fat Man Beach is a rocky point with easy diving close in for shallow divers, it attracts a lot of new divers and is a good place to find lost ab irons and weight belts. Expect abalone 7 to 7 ½ inches in 10 to 15 feet.  The abalone are easier to find, larger in size, and more plentiful as you move away from the entry.  Middle depth divers should skip the land of seven point fives and head for the middle of the main cove abalone 7 ½ to 8 ¾ are plentiful.  Look deep underneath the larger rocks for 8 ½ to 9 ¼ abalone.  Like most coves the middle depths are better at high tide when the kelp stands straight  and you can avoid the picked over "sucker holes".  The outer kelp goes to sand at 35 feet leaving little to nothing for the deep diver to work.
Directly below the start of the road to Fat Man Beach is a trail to the main cove.  This leads to one of the safer rough water entries you will find, it's well worth the hike if the swell is up, but that fact makes it a poor choice for abalone it's the land of three inch abs.  Middle depth divers should swim out and left and hit the north side of the kelp bed described previously under Reef Campground. Shallow divers should work right side along the rocks, aiming for some distance from the entry  7 to 8 ¼ abalone will be found mostly in cracks and holes along the reef structure as well as hidden in the eel grass as you near the point.  Deep divers should explore the outer edges of Fort Ross Point, following major crack systems down to gravel bottom at 42 to 50 feet, 8 ½ to 10 ½ abalone are found hear and there on rocks in and near the gravel bottom.
Those in an exploring frame of mind should hike the many trails cutting through the north end of the park from highway one to the handful of rocky coves north of Fort Ross Point. (Park at mile markers 33.40 & 33.69)  On calmer days there is excellent diving at all depths in smaller kelp beds with thriving but smaller populations that should not be over harvested.  If you just want abalones for the meat skip these "hike and dives" for more accessible larger populations that can better handle fishing pressure.
Kolmer Gulch (mile marker 34-20) is a small cove with a sandy beach north of Fort Ross and just south of Windermere Point and Fort Ross Store.  It's the northern most dive site in Fort Ross State Park.  If driving north, make a u-turn at Fort Ross Store and then park safely on the paved south-bound shoulder on the south side of the cove.  Next to a small telephone pole is an excellent maintained trail down to the beach.  Shallow divers work the rocky structure on the right side for 7 to 8 abalone in 10 to 15 feet of water and middle depth divers can hit the main kelp bed for 7 ½ to 8 ½ abalone in 22 to 26 feet of water.  Expect flatter oval shells with slightly less meat in this area. You might get as little as 6 oz cleaned meat from a 7 ¼ abalone.  This is a great "in & out" dive spot when you just want one abalone to feed two people.  Don't over dive this site, if you want three abalone or lots of meat for a big dinner go somewhere else that has a larger population of abalone.
Windermere Point (Mile Marker 34.55) is the point of land between Kolmer Gulch and Timber Cove. Take the dirt road just south of Fort Ross Store and park at the end.  Several steep goat paths lead down to Bowling Ball Beach or rock entries all of which can be very difficult and possibly dangerous if the swell is up. Think twice about diving here.  Shallow and Middle depth divers will find abundant 7 to 8 inch abalone in 10 to 25 feet.  If the weather goes bad, your only safe exit might be at Timber Cove and it's a long swim.
Stillwater Cove (Mile Marker 37.17) is a county park unaffected by the state park closures.  Park in the fee lot above Highway 1 and hike the short trail, or park on the southbound shoulder of Highway 1 and walk north to a steep dirt path by a redwood tree that leads down to the restroom.  If you're tank diving there is a ten minute loading zone at the bend in Highway One where it crosses the creek. Enter anywhere along the sandy beach.  Shallow divers work the rocks on either side for 7 to 8 inch abalone in ten to 15 feet, mostly in cracks and holes.  Middle depth divers will find 7 ½ to 8 ½  abalone on the lower sides of  overhanging rocks at 20 to 25 feet all throughout the large kelp bed left of center, and out around the wash rocks to the left.  If it's really calm, the bowl of rocks to the north called The Cauldron is a deep diver's paradise
Salt Point State Park (Mile Marker 39.89) is famous for the marine sanctuary at Gerstle Cove.  The sanctuary is, of course, closed to abalone diving, but Salt Point itself is not.  The restrooms and changing rooms are closed until July 1st but you can still dive there.  Drive the campground loop on your way in or out for a toilet as needed.  From the main parking lot walk strait toward the ocean and follow the obvious trail to any one of several rocky entries.  Shallow and Middle depth divers will find plentiful 7 to 8 ¼  abalone in plain sight and larger abalone up to 9 inches in deep cracks and holes.  This is a great site for 10 to 25 foot diving, bring extra lead if you're used to diving deeper or you will have trouble staying on the bottom.  Going deeper is not particularly helpful at this sight.
South Gerstle Cove at Salt Point State Park is another great site for shallow divers, take the road to the information center and drive to the parking lot at the end.  At the south end of the parking lot are a couple of large rocks, and some grass which lead to an old stone and concrete staircase.  Follow the stairs to a creek and the creek to a cobble beach several large kelp beds both north and south have abalone 7 to 9 inches in plain sight and bigger ones hiding deep in cracks and holes in 10 to 25 feet.  Going deeper leads to large gravel beds where the abalones are few and far between.
Some General Tips
1)    Diving for abalone should not be hard-you should have ample bottom time to explore, look for the abalone you really want, and find it again on another dive.  Follow the kelp to find your spot again.  Rushing to get the first abalone you see while feeling like your running out of air is a clear sign of poor technique, and little or no margin for error if something goes wrong.
2)    Removing your weight belt is a skill that must be practiced over and over ­– just don't drop the belt, swim to the surface and put it back on. If you need to drop the belt while swimming up just let go. If you black out, you will drop the belt automatically and shoot to the surface where your buddy can help you.
3)    Diving with a buddy isn't solo diving in pairs, it's diving in a rhythm with a partner, watching each other, looking out for each other.
4)    If you never call a dive or change locations to be safer, you're an accident waiting to happen and only good luck is keeping you alive.  When your luck runs out and you're still a yahoo it will be too late to learn good judgment.
5)    Good instruction in proper technique will dramatically improve your depth, bottom time, and comfort level.  Those skills will make finding abalone as easy as shopping at the corner store.
The New Abalone Tags
If you haven't bought your abalone report card for 2011 you are in for a surprise; the new cards are 3 inches wide and four feet long.  They emerge from a special printer that produces a custom printed license, report card, tags, instructions, and location code all in one long strip.  Your name, abalone license number and part of your fishing license number will print on every single abalone shell tag.
The tags are printed on stretchy plastic paper that has no pre-punched holes and no perforations.  If you punch binder paper size holes in the tag at the designated location there is a real possibility that the tag will tear loose, placing the diver in violation.  For your own protection do not punch the hole larger than the little circle marked on the tag.
You will also need a pair of scissors to cut the tag (required), and a special ball point pen with waterproof indelible ink (also required)  The scissors on a typical scissor/knife dive tool will not work if the tool has seen hard use.  I will be bringing a small Swiss Army knife with scissors and a Fisher Space pen that writes on wet surfaces.
You will want to sort out the hole punching, the scissors, and the pen well in advance of your first abalone dive.  I put all the above plus my license, tags, and zip-ties into a small plastic water bottle that clips to my abalone float.
Common Mistakes that cost $400.00 (or more)
1)    When in the water, do not show your abalone to another diver or share a float; you will be cited for dry sacking if more than one diver touches the same abalone. Tell your buddy "my abs, my float, my business"
2)    If you have scuba gear in the car you arrived in, be prepared to prove that you never used scuba in the area where your abalone were taken prior to taking the abalone.  Remember: "abalone dive first, scuba second."
3)    You must tag your abalone exactly where you exit, before doing anything else remember this, "First dry rock-First thing you do"
4)    Never detach an undersize abalone, every abalone you detach counts toward your daily limit. There is no way to prove you were not "upgrading". Remember "6 -¾" could cost you $2,000"
5)    Always have with you "license, tags, zip-ties, legal ab-bar, 7" gauge, scissors and pen."
Have fun and be safe.
———————————————————————————
Written by Everitt Gordon
Performance Free Diving comes to the North Coast
Bamboo Reef Rohnert Park will be sponsoring Performance Free Diving courses level I & II and Spear fishing level I this spring and summer. Call (707) 586-0272 for more information or to add your name to the list of interested persons.  Class dates and times will be posted on sonomacoastbambooreef.com.  Also available is an Intro to Abalone Diving course beginning April 30th 2011.  The course covers instruction in basic technique, cleaning and preparing abalone, and a potluck of guess what – Abalone!
Two shops in Marin County now offer nitrox fills:
Pinnacles Dive Center 875 Grant Ave Novato, Ca (415) 897-9962 and
Marin Bamboo Reef, 3765 Redwood Highway, San Rafael, Ca (415) 479-4332.
Both shops offer custom blends of nitrox  21% to 40% for divers with a nitrox card.  Divers with technical certification can get 41% to 100% fills appropriate to their level of training.  Dive-specific first aid oxygen bottles can also be filled for those with the appropriate level currant first aid card.  Tanks must be oxygen clean with current Vis and Hydro.  Neither shop has banked nitrox nor is the gas blender guaranteed to be available on site, so plan on leaving your tanks two to three days.
Note: This is our second feature article on abalone diving the north coast – see our Sept/Oct 2010 issue for our first. Past issues are available on our 'subscribe' page.