LED dive lights have changed the way we see everything underwater and have been a huge benefit to underwater photographers and videographers in particular. There have been so many advances in this technology in the last 10-15 years and it's still an area of technology that's rapidly improving.
Nauticam USA has just introduced yet another improvement in underwater lighting with the release of their FIX Neo 2000DX SWR photo and video light. The Neo 2000DX SWR is four lights in one: a 2000 lumen wide beam for focus assist or video shooting, a focused 720 lumen spot beam for macro, a red beam for a stealthy night dive focus light, and a unique red/white mixed mode.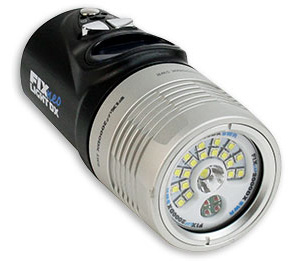 Many of today's cameras can switch between wide-angle, macro, and video all on the same dive. The FIX Neo 2000 DX SWR can provide lighting for each of those scenarios to you get the image you want. By toggling the Neo's mode button, you can switch the light from wide beam for maximum coverage, to a focused beam to isolate light on a small subject, to a red light for a covert night focusing light.
A Powerful 2000 Lumen Wide Beam kicks out 2000 lumens and a 100° beam angle, and with a single push of a button and switch, the Neo 2000 switches to spot mode for macro, where the Neo 2000 puts the spot beam just on your subject creating a more dramatic shot.
Marine life is more approachable using a red light to focus your camera, which allows you to get closer and get the shot you want. Using the Neo's simple interface, the diver can change to a red light mode with just the push of a button. This is especially effective at night when most night critters recoil from a white light.

Mixed Light Mode Returns Warm Colors
Unique to the Neo 2000 is a unique mixed light mode, which activates both the wide white beams and red beams. Mixing red into your video or photos can return the warmer red and orange spectrum normally lost at depth. Use the four user programmable mixed modes to specify how much of each color desired to achieve the color results for more color-accurate underwater images.
Other features include:
– A 100° Beam Angle for excellent video/photo coverage.
– An optional FR1 Remote Controller for easy on/off and power changes from a housing.
– Swappable batteries allowing you to keep shooting
– Swappable Neo light heads for alternate configurations.
– Mounts included, no other parts required to attach to a rig, no other parts to buy.
The Neo 2000 DX SWR ships complete with a battery, 100-240v charger, 1" ball mount, Loc-Line mount, YS-Mount, GoPro Mount, hand grip, spare O-ring and charge plug cap.
The Neo 2000 is available at Nauticam Authorized dealers – including Blue Water Photo store (click here for pricing and ordering information).
Learn more about Neo
To learn more about FIX Neo and authorized US dealers click here.
—————————————————————————————————————
BE SURE TO READ:
Six lights in one: Light & Motion's new GoBe light system
Let There Be (LED) Light: See more on your next dive with one of these great lights
—————————————————————————————————————