The Grumman TBF Avenger was a torpedo bomber developed for the United States Navy and the United States Marine Corps during World War II. Originally entering into service in 1942, the Avenger first saw action during the Battle of Midway. It was the heaviest single-engine aircraft of World War II, and to save precious space on aircraft carriers, was also the first airplane to feature a new "compound angle" wing-folding mechanism. Each Avenger was powered by a Wright R-2600-20 Cyclone 14 twin-row radial engine which produced 1,900 horsepower that helped it reach 30,000 feet in altitude and a top speed of 275 mph. With a range of 1,000 miles fully loaded, it was stronger, faster, and better than any previous American torpedo bomber.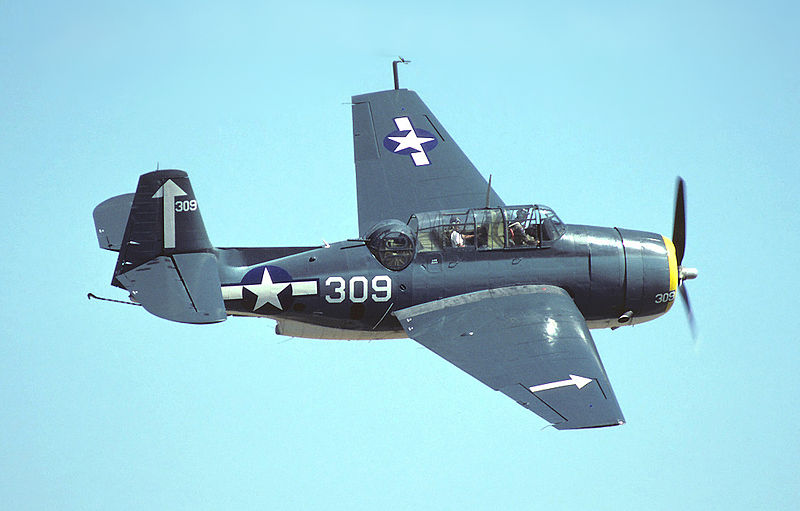 Onboard each Avenger here were three crew members: a pilot, turret gunner and a radioman/bombardier/ventral gunner. The planes were well armed, with a .30 caliber machine gun mounted in the nose, a .50 caliber (12.7 mm) gun mounted right next to the turret gunner's head in a rear-facing electrically powered turret, and a single .30 caliber hand-fired machine gun mounted ventrally (under the tail), which was used to defend against enemy fighters attacking from below and to the rear. The Avenger's large bomb bay could carry a single 2,000 pound bomb, or up to four 500 pound bombs. In short, the Avenger was an incredible fighting machine.
During a training exercise in 1944, a U.S. Navy TBF Avenger, along with 4 other planes, was on a training mission near Anacapa Island. The Avenger and another plane in the formation collided; one went down on the front side of middle Anacapa and the other went down on the back side of Anacapa and has never been found. It claimed 3 lives. The Avenger people dive claimed one life in the crash into the ocean; the pilot and belly gunner were successfully rescued, but the dorsal gunner bailed out and was killed, his body never recovered.
Located 11 miles southwest of Oxnard and about 14 miles off the coast from Ventura, Anacapa itself is a a beautiful area to explore and dive. Heavily eroded, the three islets (East, Middle, and West Anacapa Islands) have a total land are of about 1 mile, and feature towering sea cliffs, lava tubes, 30 sea caves and natural arches, such as the well-known forty-foot-high Arch Rock. Even with such a small surface, Anacapa supports 265 species of plants, including two found only on Anacapa, and 20 found only on the Channel Islands. West Anacapa is also home to the largest breeding colony of California brown pelicans.
For those adventurous enough and who have the proper training, the wreck of the known Avenger can be successfully dived today.
Diving the Avenger
Near Anacapa, about a mile offshore, lies the remains of the crashed Avenger, and it's most definitely not alone in Southern California waters. A 1996 Park Service report lists 150 known shipwrecks in and around the islands here, although there are likely countless others not recorded, and there could be literally dozens more Avengers and other planes still undiscovered. At least 700 shipwrecks and plane crashed have occurred in the Santa Barbara Channel from Point Mugu to Point Sal – about 300 in and around the Channel Islands alone.
The TBM Avenger sits upright in about 120' in sand, visibility ranges from 20'-60'. Because of the depth, possible currents, and other natural hazards, diving the Avenger is definitely an advanced dive.
Even after nearly 70 years underwater, the Avenger is still recognizable as an airplane, but heavily deteriorated and very fragile. The forward engine area and cockpit has been torn away, and scraps of rusty metal, along with a few rocks, surround the remaining shell. The Avenger's wings lie flat on the sand and have become a refuge for marine life. Since the plane was relatively intact when it crashed and sank, the wreckage covers a relatively small area and can be explored in its entirety during a single dive.
The wreck remains the property of the U.S. Navy, so nothing on the wreck may be removed or disturbed. Regardless, looters have stripped it's machine guns and likely other parts of the wreck as well.
The Avenger is a unique advanced dive for those with the proper training and surface support vessel.
For more information on this unique dive site, visit the links below.
On YouTube:

YouTube Videos of the Avenger site and diving Anacapa
Photo gallery of the Avenger wreck (Ventura County Star)

Anacapa underwater live webcam
---
Special Thanks to Joe Dovala for the images shown above. Visit Joe's website here and see more of his underwater photography and videos.
---