The sea will always hold a mystery or two, whether it be the lost city of Atlantis, an ancient shipwreck that's thought to still have gold, or for those of us who believe in legend, the possibility of mermaids and sirens. As an underwater photographer and cinematographer, I enjoy seeking out these myths and legends, and try to shake loose the truth from the grasp of the sea.
As divers we are limited by gear as well as conditions. Often times when a ship goes down there is a salvage effort, especially if there is thought to be treasure, or worse–caustic chemicals leaking into the ocean. But due to the temperament of mother nature the ships are not always where they were thought to be lost, and can sometimes be miles away from where the original hail to the Coast Guard came from.
The wreck depicted in these photos is still engulfed in a mystery as thick as the water that surrounds it as to what happened and who she actually is. What we do know is this: the ship was a composite hull built during World War II for the purpose of minesweeping. It now lays in 60 feet of water off of Scorpion anchorage on Santa Cruz Island, and was thought to have sank at anchor. It is believed to be built in the town of Orange, Texas, a town rich with ship building history that was solicited in the early years of the war with government contracts. This small town went from a few thousand to over 70,000 almost overnight in an effort to produce ships for the war, and I decided to turn my research to the naval shipping records to see if I could track down our girl.
Story and Photos by Ryan Waller, Independent Contributor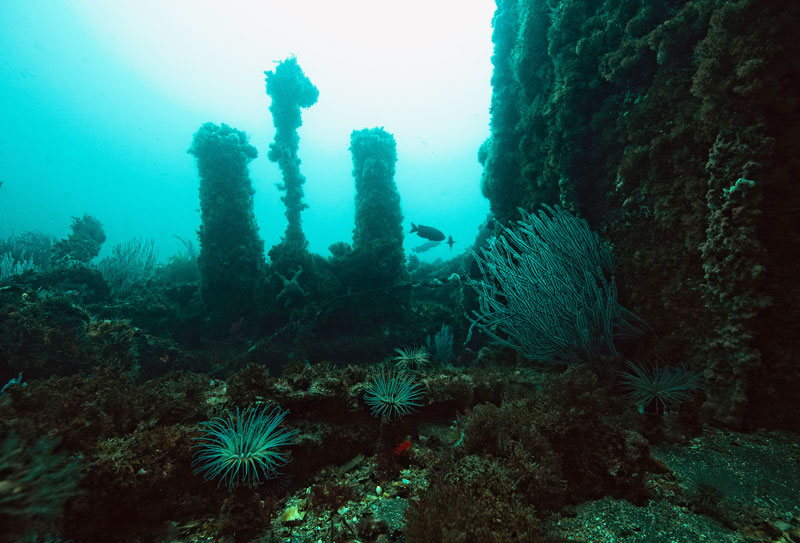 During this time period, there were two dominant companies in the shipping yard, one of which was Weaver Shipyards, who in fact has a minesweeper that fits most of the descriptions of what we know about our wreck at Santa Cruz. I believe a lot of confusion comes from the name Peacock, which was a name our girl wore in her later years after being struck from the Naval registry and sold privately. In the records of Staten Island Shipyards there is a minesweeper named the Peacock, laid in the late 20's that now lays at the entrance to the Columbian river, and that is where the confusion lies.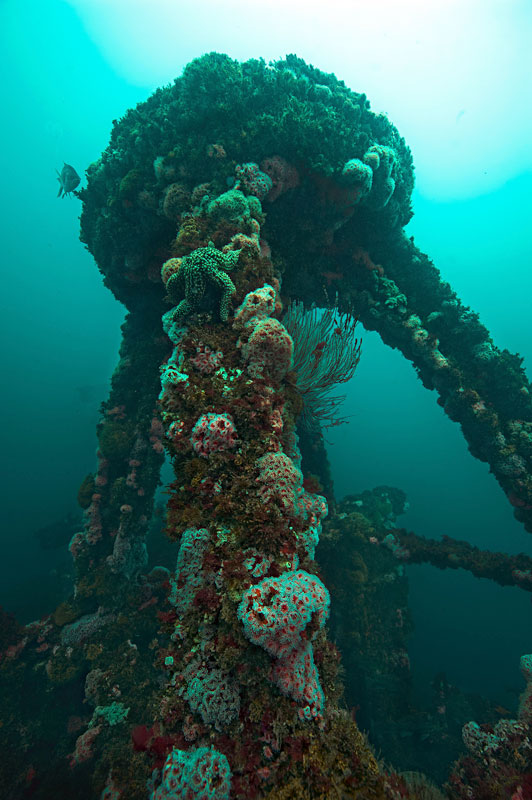 Our ship, according to Naval Records, started out as the YMS 371 and was delivered in February of 1944 (according to Weavers' records) and began its career in the gulf of Mexico. From there she went through the Panama Canal and on to Okinawa to sweep mines in Tokyo Bay.
That too was short lived. In 1946 she began her journey to San Pedro, California where she was reclassified as the Hornbill AMS-19 and was used in training efforts on the West Coast and Pearl Harbor. From there she was reclassified as the MSC(O)-19 until she was decommissioned in 1957. On November 1, 1959 she was struck from the Naval Registry but for her work she was awarded 2 battle stars.
After she was struck from the registry, she was sold privately to a Texan as Los Buscaderos, and continued her working career towing boats. From then she was named the Peacock, which is the most confusing part of the whole mess, and then later the Spirit of America. From this time to her final disposition sources cannot seem to agree about what she was up to, but many believe she was a floating bordello working the areas from San Pedro to San Mateo. Rumor has it Scorpion Ranch still has the Red Carpet and Bathtubs that used to be aboard the floating party barge.
I'll leave it to you to rummage through the facts and piece together your own picture of her latter years, and you can play out the story as you see fit. As she sits now we have little left we can learn. Most of her parts have all but deteriorated under the merciless pounding of the sea and in the above photos you can see what little bit is left, along with the new life she has created. Some things die so that others can live, as is the case with our girl in the bay. She now hosts a plethora of life ranging from anemones to rockfish and she also offers herself up as recreational wreck dive for all to see. Although it is sad to see the demise of a beautiful piece of history, it's nice to see that she can still be of service as she lays rest hosting new life in a circle of life that mirrors our own.
If you have the opportunity, pay her a visit and give her the salute she deserves before she is returned to the elemental state in which she was created from.
Story and Photos by Ryan Waller, Independent Contributor
Visit Ryan's website: http://wallerunderwater.squarespace.com
• • •
Do you have more information about this wreck or experience diving it? Post a message below and on our Facebook page at http://californiadiver.com/facebook.