Kirk McGuire was born in Placerville, California – less than a 3 hour drive to the ocean. Ironically, he didn't actually get to see it until he was 17 years old.
Growing up in a modest, hard-working household, Kirk was also a born an artist, and from a young age he amazed his teachers and friends with his skills drawing animals, wildlife, and nature scenes. When he finally did see the ocean, he fell in love with it and all the creatures that live there, and soon after finishing high school he expanded his creative talents into learning the art of sculpting. In 1984 he began a nine year apprenticeship at the Monterey Sculpture Center where he learned and perfected his technique, ultimately becoming a master sculptor, specializing in bronze.
Now 30 years after leaving Placerville, Kirk has created more than 1,500 unique bronze sculptures, which have been collected and displayed around the world. His work has been sold to high-end art galleries, featured in magazines and on television, and he's been commissioned by the Malaysian Princess of Jonor Baharu. Now, matching his skills as a veteran bronze sculptor with his love of the ocean, Kirk has chosen to focus his work almost entirely on sea life.
"Every living being has beauty, and I try to show this in each piece I create," says Kirk. "I'm truly fascinated by the underwater world – it's become my passion".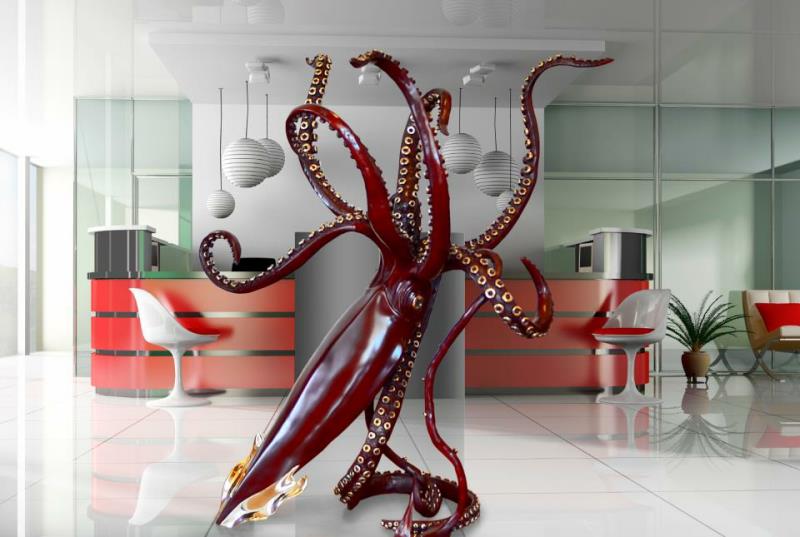 Through very thoughtful design combined with his exquisite sculpting technique, Kirk is able to make each of his pieces appear as light as air, and each piece uniquely captures a sense of movement rarely seen in sculpting. It's through years of careful observation, insatiable curiosity, and a near photographic memory that helps Kirk create each sculpture. While he has accumulated stacks of books and photographs as reference materials, Kirk is generally able to illustrate and later create sea life in intricate detail from his observations and memory alone. He's incredibly talented and it shows in each piece he creates.
"My very first octopus was one of my very first substantial bronzes in 1987 when I was 23, with a edition of only nine, and titled "On The Move". When I first showed it in a Carmel Gallery, a passing foundry told the gallery my octopus casting was so lifelike and complex, I must have somehow molded real octopus! As any diver knows, octopus are like jello once out of the water. This was a great compliment – I only realized that after I had cooled down!  My newest octopus can be purchased as a sculpture or situated to hold a glass coffee table top level. I had always wanted to create a octopus table, even as a teen. This table/sculpture is titled 'CEPHALOPOD' weighing 80 pounds of hot cast bronze."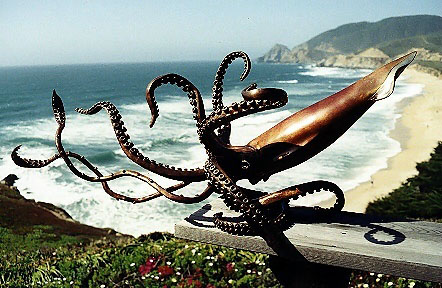 "I did my first giant squid bronze sculpture in the year 2000. I had found out my mother had cancer, so I threw myself deeply into a new and difficult piece. I sculpted 'Giant' it is almost sold out as well. My newest giant squid is titled: 'LEGEND'. It can be purchased as a sculpture or small dining table with a glass top. I can also do custom commissioned works and I hope to do a 20′-60′ giant squid somewhere in the world!"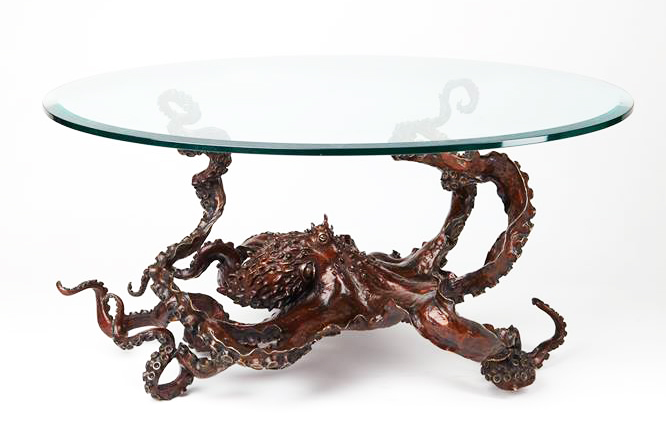 After some travel around the world and spending several years in Australia, Kirk has now settled in San Francisco where he is creating a completely new collection of marine life bronzes. All of his work is either one-of-a-kind or created as a limited edition, and as such they're not inexpensive.
"Some people will see a photo the octopus table on the internet, for example, and think it might cost $200-$300", said Kirk. In reality, one of a kind pieces this unique come at a much higher price, but there's also nothing else like it in the world and the craftsmanship shows. Capturing the intricate detail of each creature, creating the sense of movement, and making heavy stationary objects appear lighter than air are all signature traits of Kirk's work that can be found nowhere else.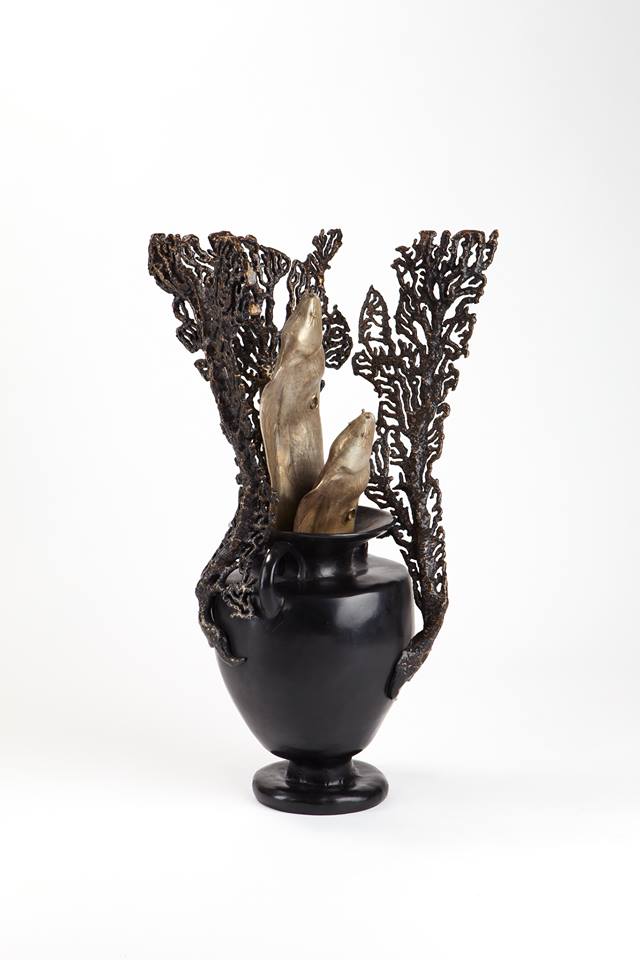 While Kirk's work has been sold almost exclusively through galleries in the past, he's now offering his work directly through his website, and continues to do commissioned work around the world. You can see more of his work and inquire through his website at Kirk McGuire.com. He can also be reached directly by email at bronze4u@hotmail.com.