Like millions of other divers, I've been a great fan of Robert Kurson and his book Shadow Divers: The True Adventure of Two Americans Who Risked Everything to Solve One of the Last Mysteries of World War II. Shadow Divers is a non-fictional book that recounts of the discovery of a World War II German U-boat 60 miles (97 km) off the coast of New Jersey, United States in 1991. (See it on Amazon.com here).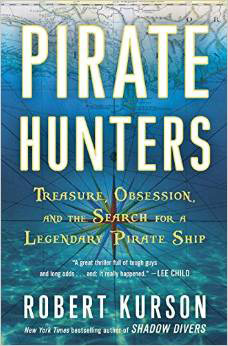 I met Robert Kurson at the Our World Underwater dive show in Chicago in February, and it was here that I learned about his new book Pirate Hunters. The book will be released on June 16, and tells the story of two divers (John Chatterton and John Mattera) as they risk everything to find the Golden Fleece, the ship of the infamous pirate Joseph Bannister. If it's anything like Shadow Divers, it will be another great book for your dive book library.
To celebrate and promote the release of Pirate Hunters, Robert Kurson is giving away several very rare prizes, including genuine pieces of 17th century shipwreck treasure. Yes, the real thing. No purchase is necessary – he's doing it as a promotion for his new book before it hits the shelves on June 16. The treasure comes from his personal collection. As Robert tells us, " I obtained some of this booty from divers who explored the wreck of Concepcion, among the most fabled Spanish treasure galleons ever. I got the rest from legendary treasure hunters I met while researching Pirate Hunters. All the coins are RARE and date to the 1600s."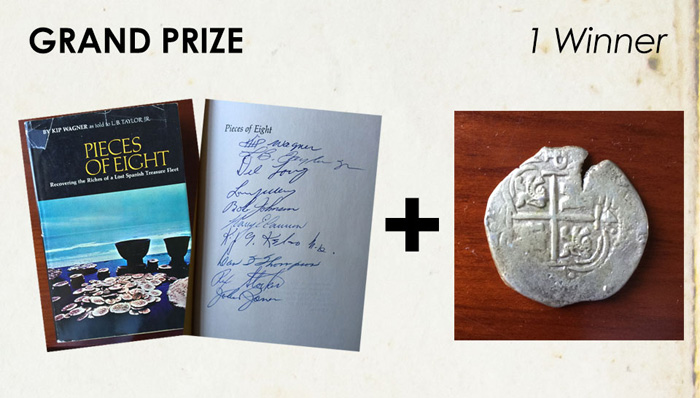 Here are the prizes Robert is giving away:
GRAND PRIZE (1 winner):
A beautiful, pure silver Spanish coin from the wreck of Concepcion, one of the world's most famous treasure ships, sunk off the coast of Hispaniola in 1641, plus a very rare book, Pieces of Eight: Recovering the Riches of a Lost Spanish Treasure Fleet, signed by ten legendary treasure hunters. The winner will also receive a signed copy of his new book Pirate Hunters: Treasure, Obsession, and the Search for a Legendary Pirate Ship.
SECOND PRIZE (4 winners):
Four people will win a beautiful, pure silver coin from the wreck of Concepcion, plus a signed copy of Pirate Hunters.
THIRD PRIZE (5 Winners):
Five people will win a signed copy of Pirate Hunters.
The contest ends May 17, 2015, and prizes will be awarded the next day, on May 18. To enter, click here.
Let's face it – there aren't many contests with a prize this great and no strings attached!
––––––––––––––––––––––––
Words & Photos by Chris Constantine, California Diver Magazine