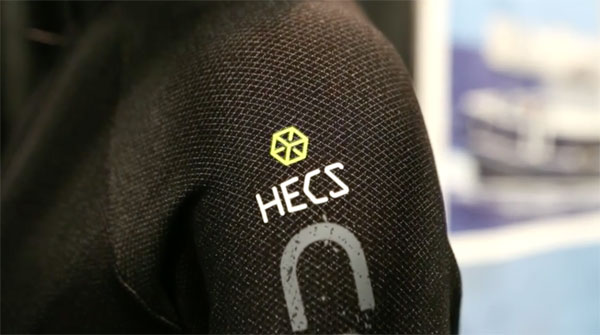 Last September we introduced you to the new Neptune wetsuit, which uses the remarkable HECS technology to help block our body's electrical signal underwater (please click here to read the article). The patented HECS system uses a carbon fiber mesh, woven directly into the suit, which acts as a Faraday cage and blocks our electrical field which some animals have the ability to detect (much like the way the screen door on your microwave oven protects you from radiation). The result is that divers are able to approach animals much closer underwater than ever before – ideal for underwater hunters and photographers and videographers.
We recently had the opportunity to meet HECS co-inventor Mike Slinkard and Lachlan McPherson, HECS Vice President of Marketing at the annual DEMA show in Las Vegas. We got to take a look at some of the newest suits which incorporate HECS, and learn more about how the technology works directly from the source.
First, here's our meeting with Lachlan, who shares some of the latest suits and some more information about their products:
Mike Slinkard is one of the co-inventors of the HECS system and is an avid bow hunter where the technology is also being successfully utilized. Mike is from Oregon, and explains some more in-depth information on HECS here:
For more information on HECS, please click here to visit the HECS Aquatic website. More information on the HECS hunting products can be found here.