If cenote diving isn't on your bucket list, it should be. And if you've already gone, it's time to go back and do it again.
In February I had the opportunity to visit nductszumel and Playa Del Carmen, and on the top of my list for the trip was another day of cenote diving – something I had only done once before. I was very happy to be referred to Cenote Xperience by my good friend and local dive shop owner Marcos Mier of Dive Balam. Dive Balam regularly runs cenote dives, but with my awesome habit of planning my vacation 1 day at a time, they were booked on the only day I had available. After a 30-minute ferry ride from Cozumel and a quick cab ride, I arrived at Cenote Xperience at 8:30am and met owner Nicolas Casella, his wife Yanina, and staff members Martin and Marti.
Cenote Xperience is a small dive shop located just a few miles from the ferry in the heart of Playa Del Carmen. Their entire staff was there that morning, and I had a wonderful chat with Yanina as I completed my requisite paperwork. Before leaving the shop a half hour later, I truly felt like family. Genuinely. There's a reason they have 475 positive reviews on TripAdvisor, though I confess I didn't check that first. By the time I left the shop I was already thoroughly impressed – and excited for our day of diving.
Our dive site for the day was at Dos Ojos ("Two Eyes" in Spanish), which is located about an hour or so away. I was joined by a family of 3 – Victoria, Barbara and Miguel– who were visiting from Argentina, and accompanied by our dive guide Martin. Unfortunately I speak very little Spanish and Victoria, Barbara, and Miguel didn't speak any English, and aside from a few quiet moments it wasn't a problem for us – Martin speaks fluent English and Spanish, and they also teach and guide dives in French. Throughout our drive and with each dive briefing, Martin repeated everything in both English and Spanish so we could all understand, and helped translate our discussions between all of us throughout the day.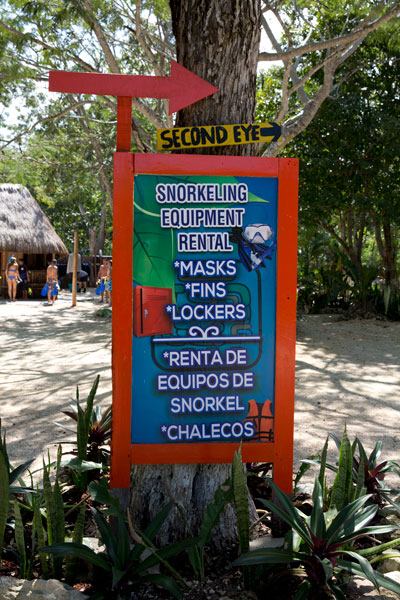 Arriving at Dos Ojos
Dos Ojos is a flooded cave system located north of Tulum, and the surveyed part of the cave system stretches for 51 miles. There are 28 known sinkhole (cenote), entrances into the system. A relatively new discovery, Dos Ojos is one of the top ten longest underwater cave systems in the world since its discovery in the late 1980s. Dos Ojos also continues to be recognized as one of the top 10 dive sites in the world by online and print publications, as well as from the mouths of many expert divers.  Exploration of Dos Ojos in the state of Quintana Roo, Mexico, began in 1986 and discoveries are still being made today.
The name Dos Ojos refers to two neighboring cenotes, less than 100 yards apart, which connect into a very large cavern zone shared between the two. These two cenote appear like two large eyes into the underground.
A dive at Dos Ojos is considered a cavern dive (not a cave dive), since visible daylight can be seen throughout the dive. Because of this you don't need any special certifications or training to dive here. Newly certified divers who are comfortable underwater with a handful of dives may be able to dive here, but Swimming through dark underwater passages in the earth can be claustrophobic and confusing for some, so it's important to be comfortable in this environment. For those not certified or comfortable exploring the caverns, snorkeling is available (snorkel gear is available for renting on-site), and there were a few dozen snorkelers there on our arrival to the entrance. Conveniently, there are also changing rooms and restrooms available on site, along with plenty of opportunities to buy some local souveners, of course.
Most guided cavern dives here include two dives in one day, each being about 45 minutes long with a 60-minute surface interval between dives. Aside from darkness and occasional light sediment kicked up by a fellow diver, visibility is virtually unlimited here. Flashlights are a requirement, for obvious reasons, and most dive guides will include them in your tour package.
Stalactites, stalagmites, and Bats (oh my)
The entrance to the "First Eye" is a short walk down from the parking lot, and the trails are well groomed with a short wooden staircase, hand rails, and an entry platform and staircase into the water, making access very easy. After a pre-dive briefing in the parking lot and a few other directions at the entry, divers make their entry into the water, adjust equipment, then descend into the cavern below.
Water temperature is a bit colder than the ocean here at 77 °F, and is consistent throughout the year. A wetsuit is necessary, as there is also no sunlight to warm you up under water (I wore a 3-mil suit, though some opt for a thicker suit). The maximum depth near the Dos Ojos cenotes is approximately 33 feet, making available bottom time virtually unlimited. The water is exceptionally clear as a result of rainwater filtered through limestone.
Once divers enter the cavern system, there is a guideline strung throughout the cavern to keep divers on the path throughout the labyrinth, and it's here that the beauty of the underwater cave system really begins.
Inside the caves, beautiful stalactites hang like icicles from the cave's ceiling, and stalagmites extend upwards from the cavern floor. In some cases, the two have joined over thousands of years of growth creating columns, are a spectacular sight to see. These stalactites and stalagmites number in the millions and range in size from that of a pencil to the size of a big tree. It's important to look and not touch though, and in fact they're protected by law from damage. Needless to say, proper buoyancy control is a must, and you must maneuver through the cave formations without damaging them.
Another feature at Dos Ojos is the "Bat Cave" (Caverna de Murcielagos in Spanish) – a domed cavern mid-way through out dive where we surfaced underground into a large air chamber, with small bats circling around the ceiling above. The air in here is safe to breathe, with small passageways reaching to the surface allowing the air to circulate.
After a 1-hour surface interval and some lunch, we made our second dive, this time along a different route through the cavern and equally beautiful. In my 3-mil suit I just began to feel a bit of a chill towards the end of the dive, but quickly warmed up in the warm heat of the jungle as we exited the cavern.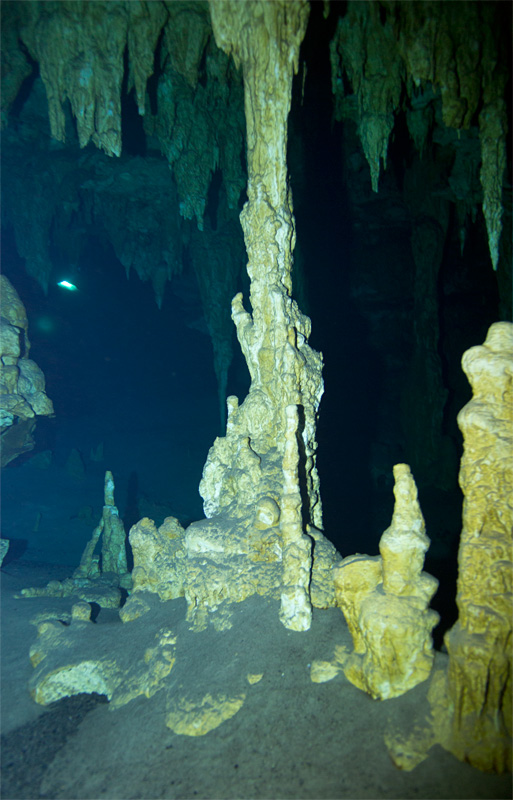 History and Mysteries
The cenotes have only been opened for recreational diving for about two decades, and there are many caves deeper in the system that are still unexplored today. Among the interesting archaeological finds in recent years are ancient fossilized remains of camels, giant jaguars, mammoths, sloths, and horses. To date, four human skeletons have been found. Tests on charcoal found beside one female skeleton would place it at least 10,000 years ago, making it one of the oldest human skeleton found in the Americas.
If you go
Most local dive shops in Cancun, Playa Del Carmen, and Cozumel can arrange cenote diving for you, although it is advisable to plan in advance. I can strongly recommend Cenote Xperience in Playa Del Carmen as your go-to dive shop, as they have thousands of dives in the cenotes and provide an outstanding experience. A day of cenote diving costs $120-$150, including transportion and lunch.
This is a great time to visit Mexico. There is a very favorable exchange rate so expenses are low, and dive shops such as Cenote Xperience are eager to provide a fantastic experience. If you're a scuba diver, cenote diving is a must-do dive. Take the opportunity to dive the cenotes just once and it may just change your life forever.
Resources:
Dive Balam – Located at the Royal Haciendas Resort
Cenote Xperience – in Playa Del Carmen
Wikipedia – Sistema Dos Ojos
Words & Photos by Chris Constantine, California Diver Magazine
.