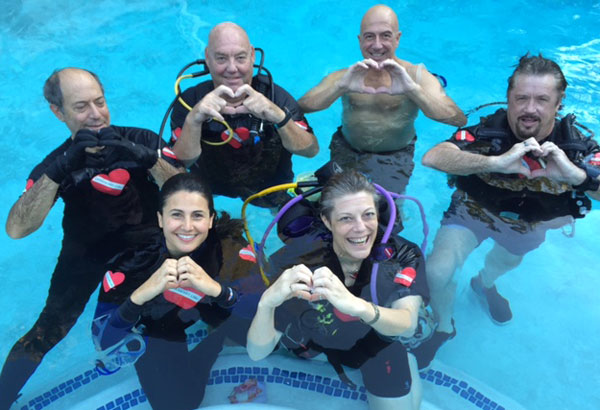 Chicago-based Diveheart works to build confidence, independence and self-esteem in children, adults and veterans of all abilities through scuba diving, scuba therapy and related activities. Utilizing certified adaptive dive buddies, they provides safe and inclusive activities for adaptive divers to enjoy the wonders of the aquatic world. It's an amazing organization that is not only expanding the possibilities of all people with disabilities, but also advancing medical research and literally saving people's lives.
This February, Diveheart is offering their training program in Southern California to train divers to become part of an Adaptive Dive Team that helps divers with disabilities. If you've ever wanted to become involved with such a great program, here is your opportunity!
The training program involves both online learning and practical pool training. Here's the outline for the February training course, which will be held in Rancho Palos Verdes:
Date: February 1st – 7th, 2016
Monday- Friday, Feb 1st -5th, 6:00 pm- 9:30 pm for your Land Clinics and Pool Scenarios**
All Day Saturday, Feb 6th – Confined Water Dives**
All Day Sunday, Feb 7th – Open Water Dives at Catalina
Course Fees
Diveheart Advanced Adaptive Buddy Course: $180 + entry fees
Diveheart Adaptive Buddy Course: $180 + entry fees
Diveheart Adaptive Instructor Course: $310 + entry fees
For complete information, including detailed course descriptions, please click here to download the information flyer, or visit Diveheart's website by clicking here.
This is a fantastic opportunity to make a difference in the world and share your love of diving with those who can greatly benefit from the experience. Please visit Diveheart's website to learn more about the great work they're doing and consider supporting them in the coming year!