For California divers, Catalina Island, Santa Barbara, and Monterey are among the more popular diving destinations, offering an array of full-service dive shops, dedicated charter boats, and of course, great diving. But in Northeastern California lies one of nature's most spectacular and scenic wonders – Lake Tahoe.
At an elevation of 6,225 feet, Lake Tahoe is well known as a favorite winter destination for snow lovers, boasting 7 ski resorts with 535 groomed trails and 125 lifts.  During the summer months, it's a popular destination for camping, hiking, mountain biking, boating, and now, thanks in part to a new dive charter boat, scuba diving.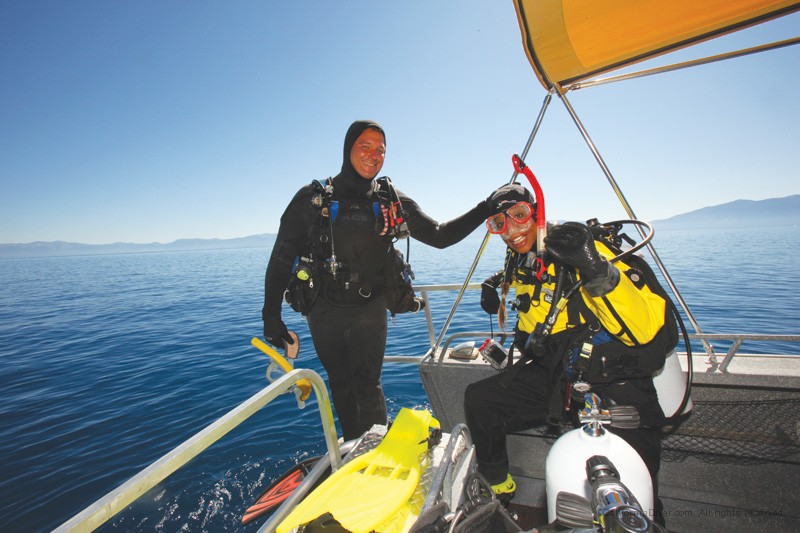 On a beautiful summer day in July, we join Mark and Julie Shiflet, owners of Strictly Scuba in Nevada City, aboard their 6-pack dive boat, Scuba Mood, for two exciting dives. This is their second summer operating the boat, which takes scuba divers out onto Lake Tahoe almost every day. Scuba Mood offers divers the opportunity to dive among spectacular scenery, along with the ease and comfort of diving from a well-equipped boat under the guidance of an experienced crew.
Our first dive is in the southwest area of the lake at the famous Rubicon Wall, where sky-scraping granite cliffs plunge almost straight down to depths of well over 1,600 feet. While a portion of the wall is accessible as a shore dive from D.L. Bliss State Park (after a strenuous hike up and down a steep trail and a several-hundred yard surface swim), boat diving here – and in fact in most parts of the lake – is much, much easier.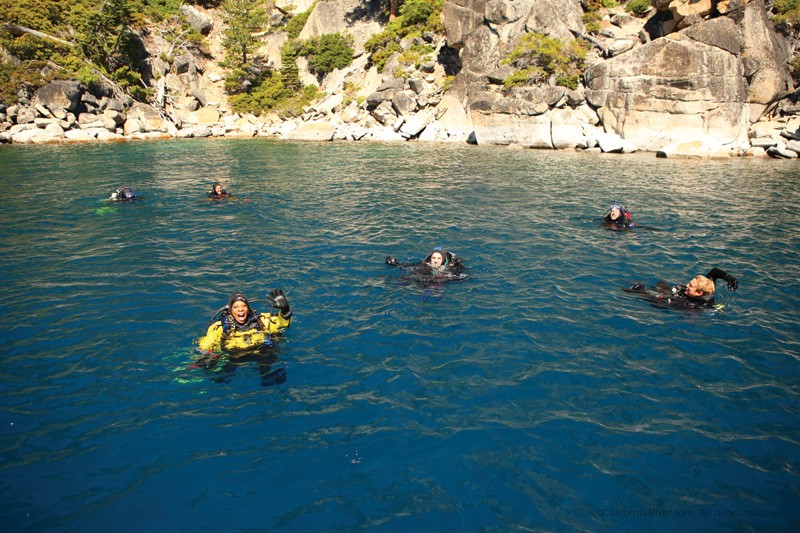 The Rubicon Wall is a quick, 20-minute crossing from our departure point of Tahoe Keys Marina in South Lake Tahoe. After meeting the crew at the Tahoe Keys marina at 8:15am and loading our gear, we arrive on the Scuba Mood just off Rubicon point at 9 a.m. While the shallower areas of the lake are bright blue in color, appearing almost tropical, the deeper waters here take on a deep, cobalt-blue hue. Even with 60-100 feet of visibility in the lake, the bottom is nowhere to be seen – in many places, including here, it's over 1,000 feet below us.
At each of our two dive sites, we're given a thorough pre-dive briefing by Mark and his team, with special attention given to the importance of managing buoyancy in these deeper waters.  The staff also provides us with reminders to monitor our depth, ascent rates, and safety stops. Due to the increased altitude here – 6,200 feet – we must make several adjustments before diving, such as modifying our maximum depth, bottom time, ascent rate, and surface interval time. While a specialty class on altitude diving is highly recommended (and available at most dive shops in California), the crew on the Scuba Mood do a phenomenal job of explaining the necessary adjustments and helping the divers plan a safe dive profile.
Following the pre-dive briefing, our boat Captain, Ryan, expertly guides the boat to a rocky ledge near the shore, where we easily enter the water from a giant-stride entry from the stern of the boat. Once in the water, our group of six – myself, Mark, Julie, Strictly Scuba diving instructor "Rooster," and divers Bruce and Valerie of Santa Rosa – make our final gear adjustments. Glimpsing down through the crystal-clear water to the rocky bottom below, we swim towards shore, where we will group up and begin our descent.
While Tahoe diving is definitely cold-water diving, the water at the surface is very comfortable – in the mid-60's – and especially refreshing after donning our 7mm wetsuits, hoods, and gloves on this warm Summer day. All of us generally find a full 7mm wetsuit more than adequate for our dives, but the water definitely gets noticeably cooler near the 60 foot mark. In the winter months, Mark says, he and his crew dive dry, and we find that people shore diving today are also split between diving wet and dry.
Our initial descent brings us to a small sandy area of approximately 20 feet deep, which is a perfect location to pause and look upwards at the cliffs and trees looming above the water. A look down into the depths reveals large boulders, giant tree trunks that had fallen in the lake long ago, and an old telephone cable that drapes over the submerged boulders and parallels the shoreline during most of our dive. Small schools of fish flash into and out of the rocks, and a few crawdads poke out of their protected nooks.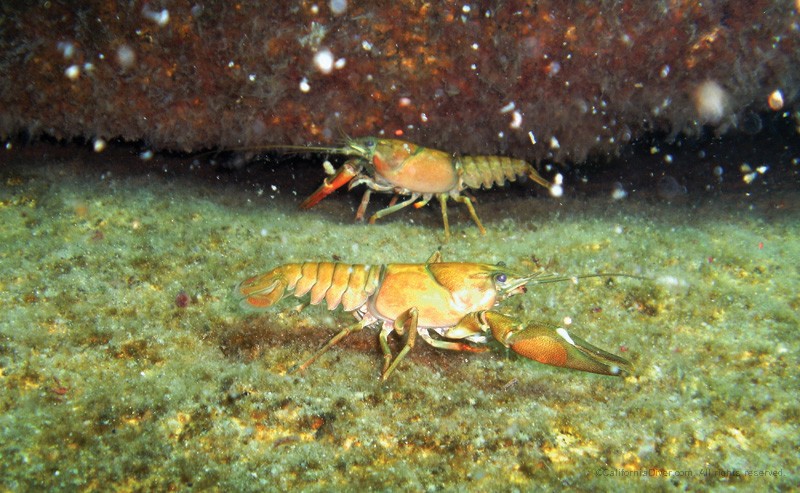 Following a safe dive profile, we work our way down to our planned maximum depth of 60 feet, then gradually work our way up the wall as we head south. There is a significant drop in temperature down here, with the water temperature falling to the mid-to- low 50's. According to Mark, the temperature this summer is quite a bit cooler than in previous years due to a larger than normal snowpack over the winter and a late runoff of melting snow. This has affected our visibility, reducing the normal visibility of 100+ feet downward to a visibility of only 40-60 feet in certain areas. But we're not complaining – it's rare to find water this clear outside the tropics!
Continuing along the wall, we follow our planned dive profile, gradually work our way upwards into shallower depths. The landscape underwater continues to mirror the rugged topography above water with dramatic bluffs, rocks, and drop-offs.  We see more crawdads, small fish, and sadly, a couple of cans and garbage that were likely tossed overboard by careless boaters. There are a few old hooks and fishing lines entangled in the limbs of ancient submerged trees. With the crystal-clear water, at times it feels more like we're floating above the ground instead of diving below the water. While Lake Tahoe does not have huge kelp forests and coral reefs, the rock structures and unique profile of the rocky walls does make for an interesting and unique dive. Checking our depth gauges and air, it's time to do our safety stop at an altitude-adjusted depth of 12 feet, then surfacing to some of the best scenery anywhere in California.
Upon signaling to our captain, the Scuba Mood swings by to pick us up (boat diving at it's best). We grab a bite to eat and drink as the Scuba Mood takes us to our second dive site of the day – Emerald Bay.
Emerald Bay is home to California's first underwater shipwreck park.  The historic barges were officially opened to the public as a dive site following a ceremony in 1994. Emerald Bay consists of two huge wooden barges made from Ponderosa pine timbers.  These barges were commonly used in the early 1900's for transporting cargo on the lake. Unpowered, they were towed by steamers which traveled across the lake between California and Nevada anchorages. The barges are very well preserved in the cold, clear waters of Lake Tahoe, and make for a very interesting dive.
We tie off to a buoy anchored above the barges, and finish lunch as we complete our 90-minute surface interval. After another pre-dive briefing by Mark – this time with a focus on navigating around and through the barges – we make another easy entry and descend down the buoy line to begin our dive.
Once again, the warm surface water turns much cooler as we descend to the 40 foot mark. Near the bottom, the barge itself is nowhere to be seen, but as we swim south, a huge dark shape emerges before us, eventually defining itself as the pair of massive wooden barges. The dive here is relatively shallow, not much more than 40 feet down, and the visible sunlight make this a very interesting dive. Our guides lead us on a scenic underwater tour, and we get to swim around and above the remaining deck planks.  We're also able to maneuver beneath some of the planks and actually swim "inside" one of the barges – not quite a penetration dive, but fun nonetheless! Small fish dart in and out of the decks and the partially-rusted hardware. We discover the interpretive plaque placed between the barges, which outlines their history and the details of their construction a century ago.
Surrounding the barges, divers can find several other treasures. Items once used at the old Emerald Bay resort (constructed in 1884) were dumped in the bay, and the Scuba Mood crew has found several pieces of old china plates nearby. There are also rumors of several sunken dories and even a Model A Ford existing somewhere in this area. Since this is a state park, all artifacts are protected by state law, and may not be disturbed or removed.
According to the crew, visibility at this site is lower than normal (again due to late-season snowmelt), but the dive is interesting and worthwhile. This dive site, like many on the lake, is not reachable from shore, and although it could be dived from a private boat, the crew provides us with a unique dive site overview, history, and extensive underwater tour.  These features allow us to not only appreciate the history surrounding our dives, but also afford us the chance to see most of the area in a single dive.
Our second dive concludes with a leisurely safety stop in the warmer shallows, and we surface as a group within 10 yards of the Scuba Mood.  Re-boarding the boat is easy with a custom-built diver's ladder and help from the crew. We're back at the Tahoe Keys Marina by 1:30pm, leaving us plenty of time to enjoy the rest of the day on the lake.
Words & Underwater Photos: Chris Constantine
Photography: Brian Long
Lake Tahoe Facts:
• Maximum depth: 1645 feet (Second deepest lake in the US, after Crater Lake)
• Average depth: 1,000 feet
• Surface area: 191 miles
• Average surface elevation: 6,225 feet
The water temperature near the surface generally cools to 40 to 50oF (4.5 to 10oC) during February and March and warms to 65 to 70oF (18 to 21oC) during August and September. Below a depth of 600 to 700 ft (183 to 213 m), the water temperature remains a constant 39oF (4.0oC).
.

Tahoe Keys on Dwellable
.