Despite a vigorous campaign by environmental groups to protect them, great white sharks in California were rejected Friday for listing under the U.S. Endangered Species Act.
A Stanford University study released in 2009 determined that this region's white sharks are genetically unique compared with other great whites around the world, a crucial criteria for an endangered species listing. Even so, the National Marine Fisheries Service declined to list Great white sharks for protection, despite recent estimates showing that only 350 adults and sub-adults exist in the two places along the West Coast where they congregate — Guadalupe Island, Mexico, and in the Red Triangle between Monterey Bay, the Farallon Islands and Bodega Head.
The fisheries service discounted the population estimates, claiming that the numbers are preliminary and don't include the many juvenile sharks that are born and grow up in Southern California.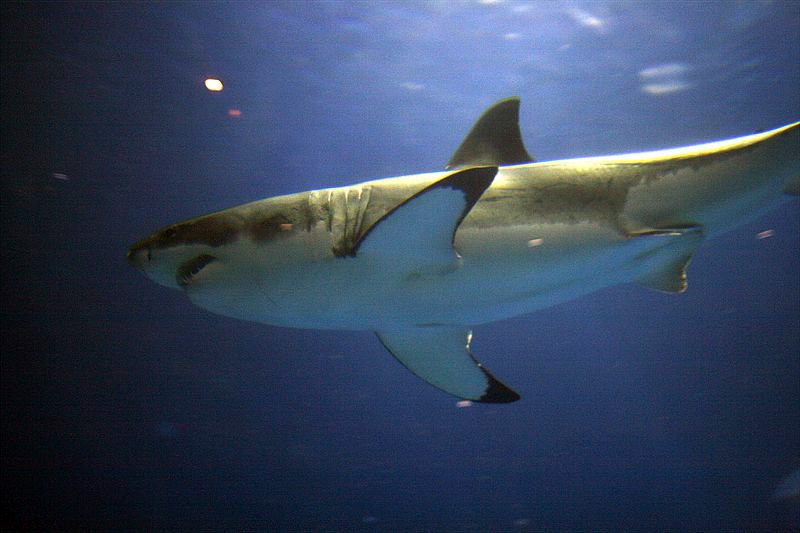 "They made the wrong decision," said Geoff Shester, the California program director for Oceana, one of the conservation groups that filed a petition in 2012 to list the sharks.  "Clearly there are uncertainties in the population, but this is just a bad decision in our view. We protect whales, we spend millions of dollars to protect sea otters and both have numbers way greater than this."
Shester added that great whites are in danger of extinction from pollution, climate change and because they are constantly being ensnared accidentally in gillnets set for halibut and seabass.
Great white sharks are still candidates for protection under California's Endangered Species Act. In February, the state Fish and Game Commission began a yearlong review to determine whether the sharks are sufficiently threatened to warrant a listing, which would impose more stringent regulations on fishing and other activities that might harm them.
Conservation groups are alarmed by the decision not to afford the sharks the protected status that they clearly deserve and need to survive. The groups had petitioned in August 2012 for federal protection of these important ocean predators, which are under threat of extinction from a multitude of human causes, including bycatch in fisheries, pollution of habitat and climate-related impacts. Earlier this year California wildlife officials placed great white sharks on the candidate list for state Endangered Species Act protection under California law. A final California Fish and Game Commission decision is expected next winter.
"The threats to our oceans and the species that call them home are grave and increasing, yet of the 1,475 species protected under the Endangered Species Act, only 94 are marine species," said Bethany Cotton, wildlife program director at WildEarth Guardians. "NMFS' refusal to protect the imperiled great white shark is part of a larger pattern of failure to address threats to marine species and ocean health."
Importantly, the state of California has direct authority over the biggest known threat to white sharks, the set gillnet fishery targeting California halibut and white seabass, which is responsible for the vast majority of the documented bycatch of juvenile white sharks. The California Department of Fish and Wildlife is currently conducting its own internal population status review, based on a similar petition the groups filed last August to list the population as endangered under the California Endangered Species Act.
Great white sharks, known scientifically as Carcharodon carcharias, average 15 to 16 feet in length but can grow to 20 feet. The biggest one on record, caught in 1939, was 21 feet long and weighed 7,300 pounds.
Related Story:
Getting my feet wet with great white sharks