If you're a frequent visitor to the Hawaiian islands, chances are you've already explored the more popular shore dives in the area and perhaps gone out on a boat for a two or three-tank dive trip. When you return for your next vacation, some of those dives may remain your "must do" dives, but you also may be yearning for something new and different. One option to consider is to dive in areas less frequented by taking a long range dive trip.
In recent years, I've been a frequent visitor to Hawaii's Big Island, and my go-to dive shop has been Kona Diving Company. There are many other great shops on the island who provide quality equipment, service, training, and dive trips, but I've very much enjoyed my time with Kona Diving Company and chose them on my last trip to the island. Like other dive destinations in Hawaii (and at many other dive destinations around the world) Kona Diving Company offers long range trips that go farther, stay out longer, and take divers to some of the sites less frequently visited.
In August I joined Kona Diving Company for a long range trip and learned more about these trips firsthand. It's a trip I was really looking forward to, and was rewarded with some of the best diving I've experienced in Hawaii. Also on the boat were Kona Diving Company's Kerry and Katie Key, so I also had some great diving buddies and information from local experts on what makes long range trips so special.
If you haven't considered taking a long range trip in the past, you really should consider it on your next trip. Here's why.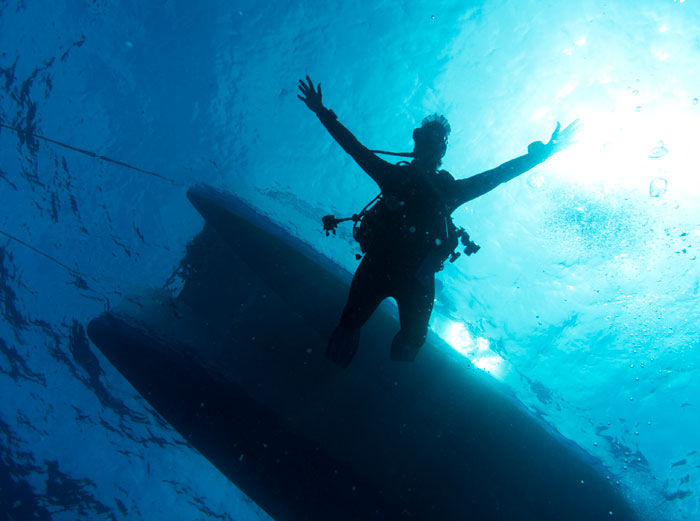 Special Trips, Unique Diving
At Kona Diving Company, 2-3 tank long range trips are less frequent than their daily 1 or 2-tank dive trips, but still offered on a regular basis. Kerry Key explains:
"We try and schedule them about once a week to 10 days.
We try not to run more than one a week because they're really special days. If we did them all the time, it would detract from how special they are. They are also scheduled based on demand, so when somebody calls, we take a look at their dates and find out if there's a day that is available to schedule a 3 tank long range trip, if we don't have one set up already."
A long range 2-or 3-tank dive trip with Kona Diving Company will typically leave earlier in the morning and return around 3:00 in the afternoon. Sandwiches, drinks and snacks are served on board, and loads are also limited to make sure divers have ample room on board. Destinations vary with each trip, based both on the current conditions, weather forecast, and what divers are most interested in seeing and experiencing on their dives.
"We'll go in both directions (north and south), and divers can see how completely different it is. We've got a lot of tubes that go more than 100 feet back into shore line that parallel each other, and huge caverns. It's very, very different depending on where we go."
Experience helps
Extended range trips are suitable for more experienced divers who have experience boat diving in Hawaii. Conditions may be less predictable and divers need to be comfortable diving off a boat, have seasickness under control, and be able to deal with deeper water, currents and different conditions in waters offshore. To help make the experience as best it can be, Kona Diving Company requires that you've been out with them before before joining them on a long range trip.
"We don't really allow people to dive those days that haven't been out with us that trip so far", Kerry said. "It's not a good day to shake off the cobwebs, it's not a good day to check out your gear. It's the day to hit the ground running when you know that everything is in order and you're not going to have any equipment issues".
"This also gives us a chance to know everybody a little bit so that we understand everybody's consumption rate, their dive style, what kind of animals they like, and we can gear the day towards them. It also helps us plan and choose the dive sites, plan what kind of a day we're going to have, and cater the experience towards the individuals that are on the boat that day."
While experience helps, you you don't need to be a highly experienced diver to enjoy a long range trip, either. "We take new divers all the time, we just want to know them a little bit first", Kerry said.
Kerry added that schedules and availability can change as well, depending on conditions, and divers should understand that if the ocean isn't cooperative, they may have to cancel or reschedule a trip.
"These days are always conditions dependent". Even with trips scheduled months in advance, divers should be prepared for the possibility of a scheduling change. "We might be able to stay locally and do something else but they are subject to what mother nature has in store for us".
Advantages
For divers who are comfortable boat diving in Hawaii, there are many advantages to taking a long range trip. One is seeing life not seen closer to shore, and more diversity as well.
"For people that have never been to Kona before, they can do 3 days of diving, see a different dive site on each of those dives and have a terrific time. There's much more diversity further field as well. Whether we go north in the summer or whether we go south all year long we have more time to travel, we can get to some sites that are really, really different from what we see locally."
The Hawaiian islands are also much different from each other, both above and below. If you've only been diving on Oahu, for example, you've only seen a part of what diving is like here. Oahu, Hawaii, Maui, Kauai, and the other islands offer very different types of diving, underwater terrain, sea life, and conditions.
"We just had a group come from Kauai where they did a week of diving. They were really surprised by how different the diving is in Kona versus Kauai. They said Kauai had the best turtles they've ever seen, but essentially no reef and no coral. They mentioned that just populations and the diversity of species wasn't there. You can have an average [sha-lok 10:48] right outside the harbor, incredible coral coverage, beautiful, beautiful fish life. If you go 1/4 mile one direction or the other and it's completely different."
Diving the Kona Coast
One thing unique about diving the Kona coastline is the unique structure the ancient lava flows have created for divers. Near shore, divers can explore lava tubes, swim-through arches and caverns. Much deeper water can be found just a few hundred offshore that provides both a different diving environment and brings in larger sea life that might otherwise only be seen in much deeper water. Because of this unique terrain, a single dive site can provide a beautiful and rewarding experience for a new diver as well as an experienced veteran, all from the same boat.
Kerry adds, "In a dive community, globally, it's really hard to be able to take one boat full of divers at all different levels to one location and keep everybody happy. We've had people call that have never been diving in Kona before and they want to book a dive and they'll say, "You don't have students going out that day do you?" They're used to being so limited, if there are students on the boat they can only go to a location where their max depth is 40 feet, and that involved everybody on the boat. We don't have that limitation here, it's really nice."
Before You Go
A long range dive trip provides a great new way to explore the Hawaiian islands and can provide an amazing experience diving some of the most beautiful water in the world. To make your trip as successful as possible, here are a few suggestions and considerations:
Call ahead
Give the Kona Diving Company (or your shop of choice) a call well before your vacation and see if there's a long range trip scheduled. If there is not one already scheduled, let them know you're interested, and they'll probably try to put one together for you and find other divers to participate. If there is already a trip planned, put down a deposit and reserve your spot.
Plan your dive (trip)
If you're not familiar with long range diving in Hawaii, let the dive shop know. They may want you to dive with them closer to shore first, so make arrangements to do so. As as many questions as you like about the trip –what gear you need, when you need to be at the boat, and let them know what you're most interested in seeing. They go out almost every day of the year and can answer just about any question you have regarding the trip.
Take your meds
Seasickness is a very common experience when boat diving and it's very common for dive charters to have at least one sick passenger on the boat, even when diving close to shore. Unless you're absolutely sure you won't get sick (and have the personal track record to prove it), take medication to prevent seasickness long before boarding the dive boat. Seasickness can completely ruin your trip, is a miserable experience, and can usually be prevented for less than $15 in over-the-counter or prescription medications.
Have a backup plan
Diving in Hawaii is usually good all year, but there are times when a shop will need to cancel a charter due to weather or other factors. Dive shops absolutely hate it when that happens and dread having to call their customers to announce a cancelled trip, but it does happen on occasion. If your trip is cancelled, find out what your options are and continue to have a great vacation!
For your next trip to the Big Island of Hawaii, consider taking a long range trip and explore some of the most beautiful diving has to offer!
Related links & resources:
Kona Diving Company
Shorediving.com (Hawaii shore dives)
Kona Sheraton