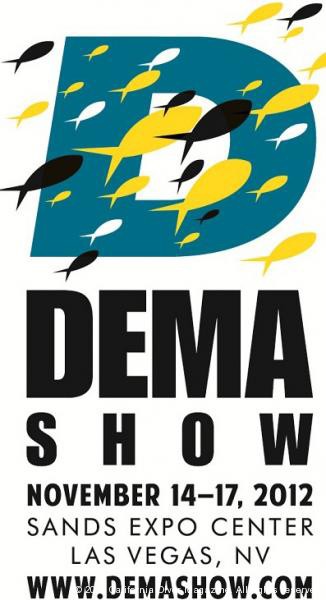 California Diver is at the huge DEMA (Dive Equipment and Marketing Association) show at the Sands Convention Center in Las Vegas. We're checking out the great products being released by dive gear manufacturers, chatting it up with industry professionals, and connecting with all our writers, photographers, and others who have contributed to California Diver over the past few years. While the show can only be attended by dive-related businesses and dive professionals, we'll share with you some of the great stuff we find at the show over the next few days.
Below are some of the best, most interesting, innovative, or useful gear we found at the show this year. Keep checking back, as this page will be updated several times a day during the show, with more in-depth information to follow in the coming weeks.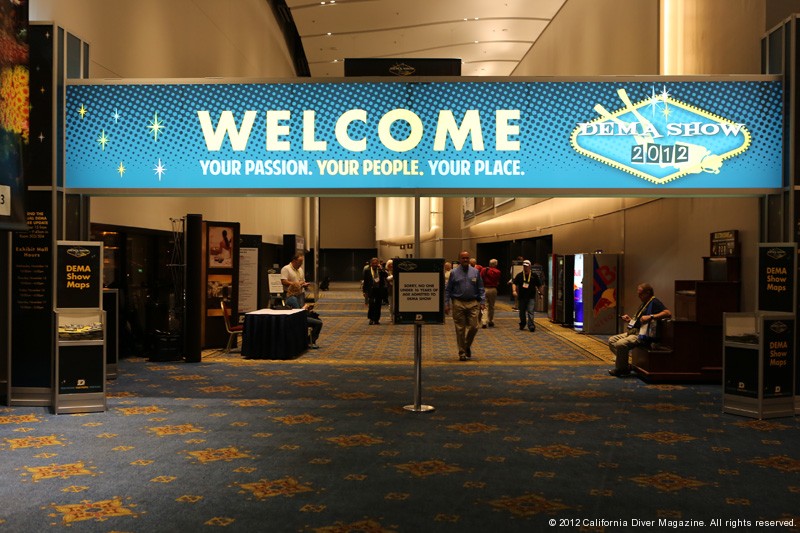 SeaLife's New AquaPod
Divers who have built their own camera poles from an old broom or their kid's Lacrosse stick should check out Sealife's new AquaPod. The AquaPod is an extendable Underwater Camera Monopod that will securely hold your camera 18-53 inches away from your body, allowing you to safely get closer shots of underwater marine life, or to take underwater photos or video of yourself as you dive.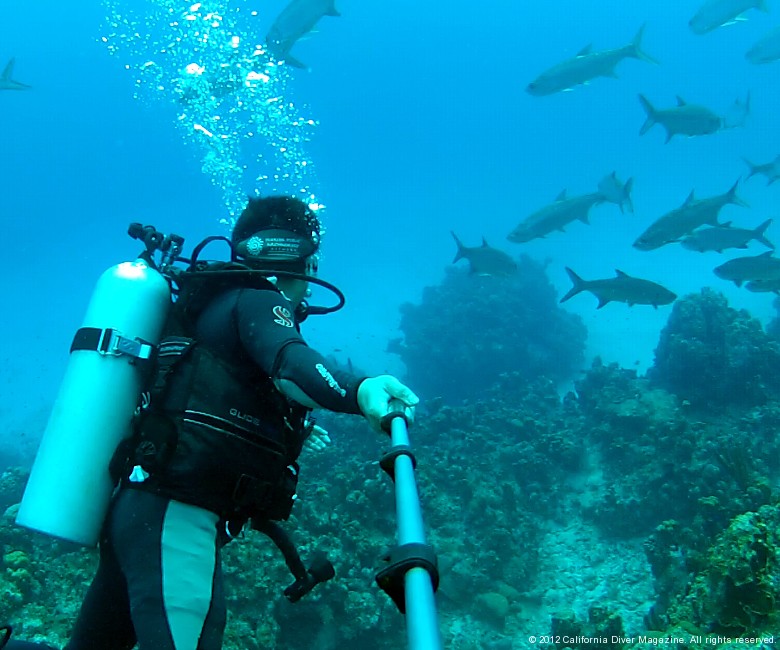 The AquaPod fits all SeaLife cameras as well as cameras with a standard 1/4-20 tripod mount via a quick-release mounting plate. It will include a special adaptor for GoPro® cameras, a a rubberized grip for a secure hold, a mirror built into the base of the monopod head for self-portraits, and a lanyard with a safety clip.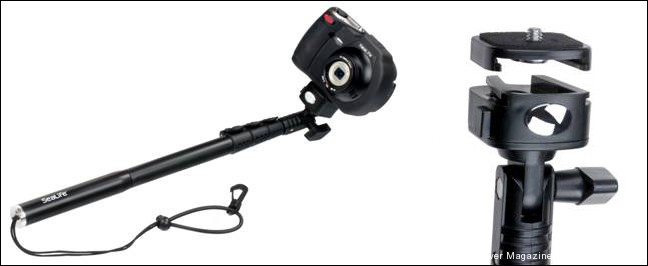 The AquaPod weights in at 10.5 oz. and will retail for $69.95. It will be available for purchase after November 19th, and you can order it online at B&H Photo by clicking here. It should also be available in local dive stores soon.
RIPFLIP Walkable Flippers
Wetgear is a new company based in California, and has created the world's first walkable flipper called the RIPFLIP. They have a hard sole, and the neoprene tops are fused to the sole – not glued – so they'll never come apart. The flippers are designed with the bodysurfer, paddleboarder, and swimmer in mind. They're available in all sizes for both men and women.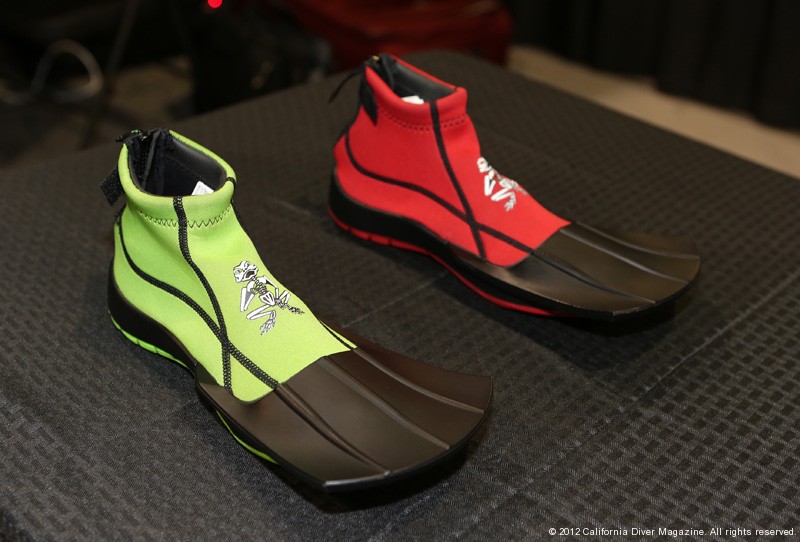 More information on the Rip Flip walkable flippers can be found on their website at TheWetGear.com. In addition to the flippers, WetGear also has their own line of dive apparel available.
Enos Diver GPS Locating System
Invented by Karl Hansmann, The ENOS system (Electronic Alert and Location System – in German) is a GPS-based location system for dive boat operators to locate divers on the surface. Divers each carry a transmitter with the receiver carried on the dive boat, either in a permanent installation or in the included portable hard case.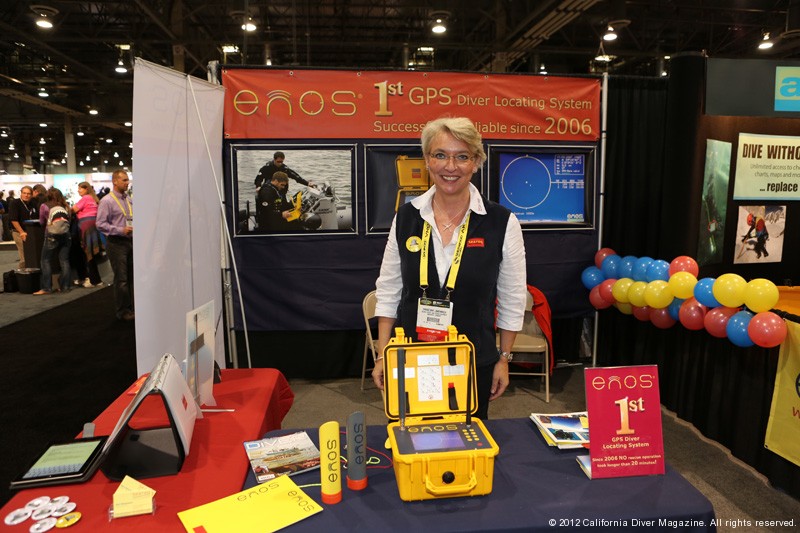 The Enos system operates on it's own, independent of the Coast Guard and independent maritime rescue coordination centers like EPIRB's do. On the surface, a diver activates the transmitter with a simple twist motion, and the alert from a diver goes directly to the base station aboard the dive boat. The housing which protects the transmitter is waterproof up to 330 feet, with an optional unit available which can safely go to 660 feet. What makes this system even more unique is the display at the receiving station.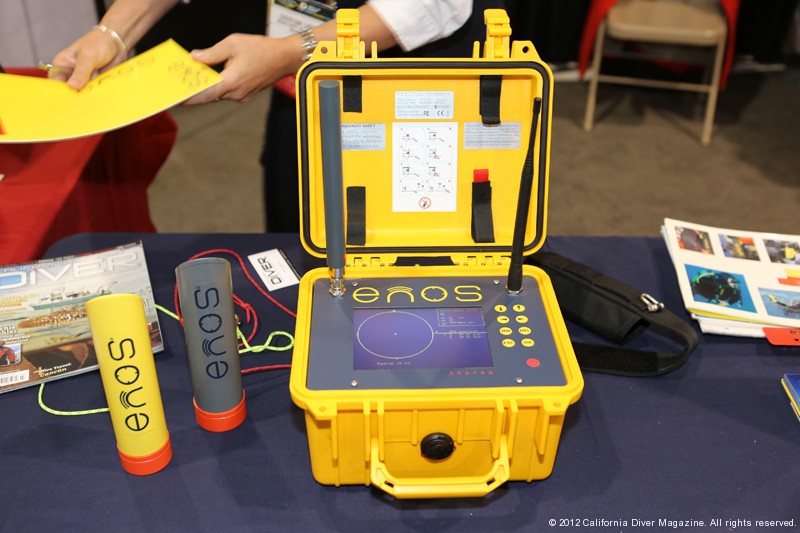 The display screen is designed to allow the boat operator to not only know that a diver is in distress, but also the exact direction and distance from the dive boat. Much like finding your way to a friend's house using the GPS in your car, this system allows the boat operator to pinpoint the exact location of the diver and how far away they are. With this technology, in 6 years of operational testing, no rescue situation has ever taken more than 20 minutes to locate and rescue a diver.
The ENOS system is made in Germany. More information on the system can be found at www.seareq.de.
Keldan Lights
Keldan produces excellent underwater lighting for video and of their lights can be used for many other purposes both above and below water. Made in Switzerland, Keldan Lights are exceptionally well engineered self-contained lights, requiring no external power source. Their Luna-8 has been called the "Video shooter's dream light" and the Luna-8 Flux light throws our 5,000 lumens of beautiful, smooth diffused light. The Luna-8 also features a 14 degree beam and will burn for 65 minutes at full power or 14 hours at low.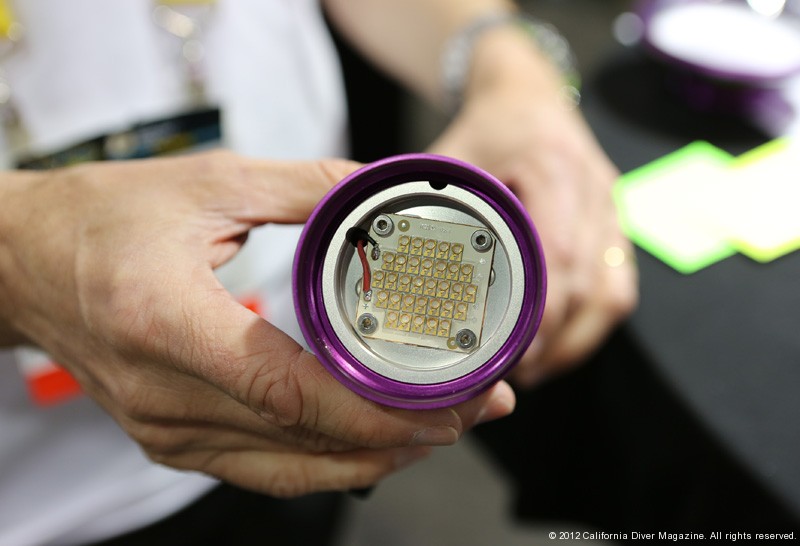 Daniel Keller, owner and inventor of Kendan Lights, was at the show and shared with us his newly developed cyan light, which uses an array of colored LED's to produce a cyan color spectrum for obtaining accurate underwater color at 0-20 meters in depth. Unlike using a color balancing filter, which can reduce light output by as much as 60%, the color balance is produced by the array of LED's themselves. Because Keldan lights use the same size LED head for all their lights, he lighthead can be used in different sized Keldan lights.
Kendan lights are distributed in the U.S. by Nocturnal. More information on Keldan and their technology can be found on their website here.
SUBA – Cruise Control for Diving
Imagine having a cruise control to control the buoyancy during your dive, just as you set the cruise control in your car to control your speed down the freeway. SUBA, a new computer-based buoyancy control system, promises to do just that.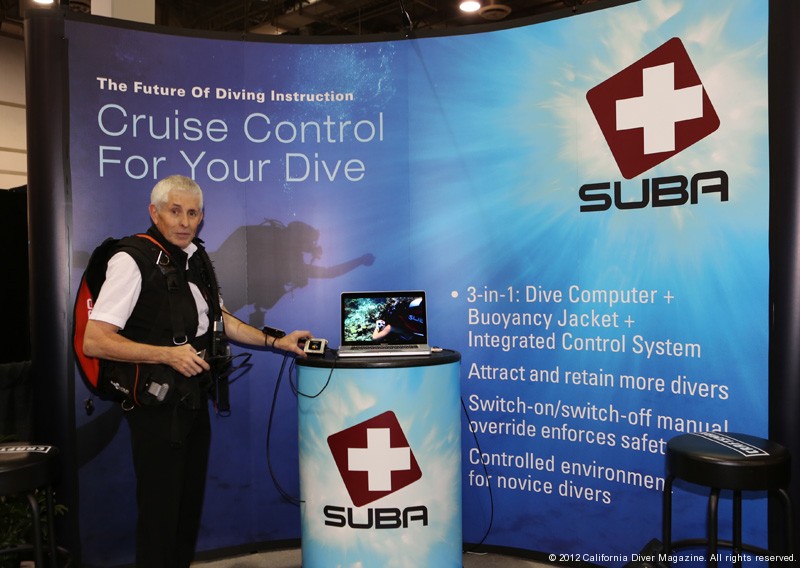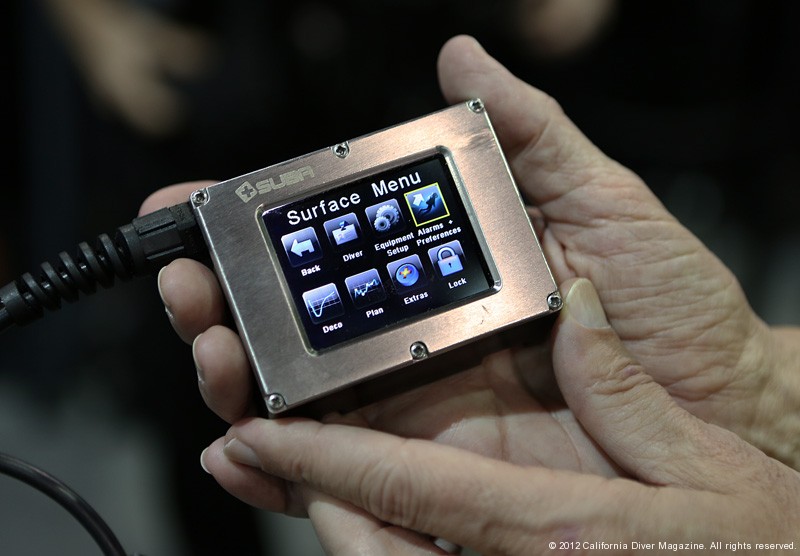 The SUBA is a complete integrated system, which includes a BCD, control computer and buoyancy control components. SUBA is undergoing extensive testing (with a goal of 10,000 hours of use before releasing it) and it should be available to divers by April 2013. It is being developed by Pandora in Switzerland, whose mission is to attract and keep more people in scuba diving by improving safety for dive schools, dive instructors, novice and trainee divers.
To learn more about the SUBA system, visit Pandora's website here.
DiveMate Self-Donning Assistance System
Based in Fort Myers, Florida, the DiveMate system allows for easier donning and removal of your dive gear on the boat. The system uses an aluminum pole which securely fits into standard 8″ 30-degree fishing rod holders, two brackets and a velcro safety strap which will securely hold 63, 80, or 100 cubic foot tanks while traveling to and from your dive site, even in rough seas. When it's time to get into your dive gear, you simply sit down and slip into your BCD, and with a tug forward the tank pulls free so you can bankroll into the water.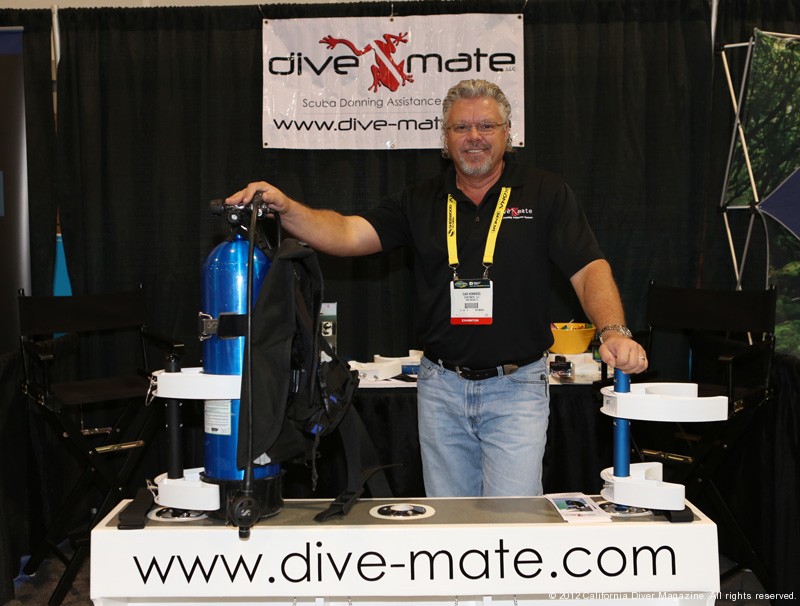 The DiveMate system seems very durable and the bottom polymer wedge keeps the tank from flopping when you're putting your tank on, which commonly happens when the tank is only secured by a single top bracket and bungie, common on many dive boats.
More information can be found on DiveMate's website at dive-mate.com.
Pelican's New Cooler
By now, you're familiar with Pelican's storage cases – they're used everywhere, and for good reason – they're just plain tough. Now Pelican has created a cooler that promises to be a hit among divers and anyone else who wants or needs to keep their catch (or beer) cold.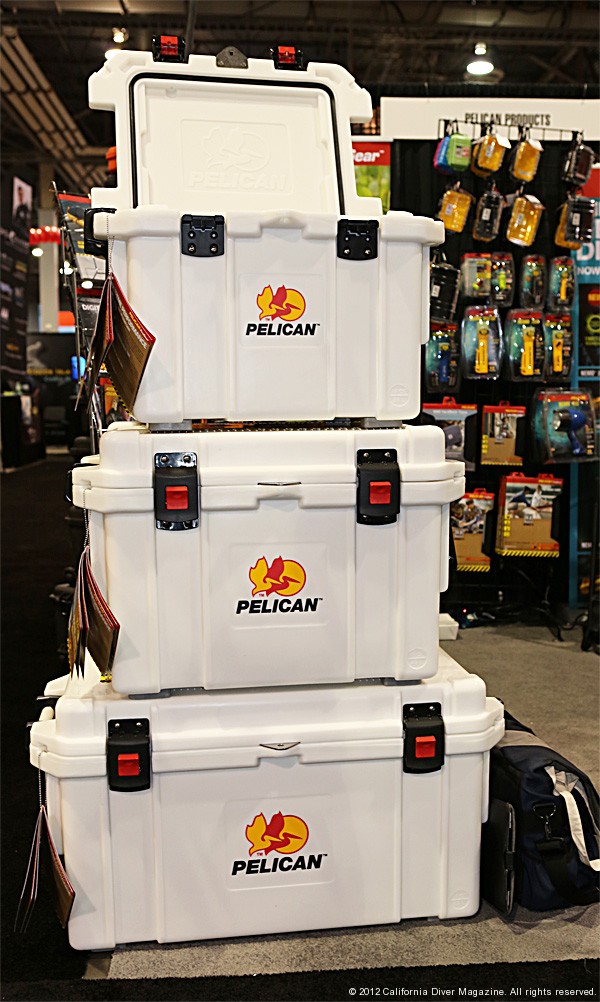 The Pelican Cooler uses a new latching system that makes it very easy to open and close the cooler while providing a tight seal. By pressing the top of the red latch, the lower part of the bracket can be lifted and the cooler opened – it requires little strength, even a child can do it.  The latches and cooler use military-grade latches, a commercial grade o-ring for water tightness, a tethered drain plug, and is available in 35, 45, and 60 quart sizes. Pelican says the cooler will retain ice for up to 10 days – pretty amazing. You can find more information on these coolers at Pelican's website here.
Drycase – for your iPhone, iPad, or just about anything else
Drycase's first DEMA show was just last year, and they've created an excellent system to protect all your valuables – while diving, rafting, on the beach, camping, offroading, or anywhere where electronics and water or dirt don't mix. Their newest system includes a drycase for your iPhone or iPod with plug-in headphones that can be used in the water – and even a microphone on the cord so you can talk on your phone in the water! The headphones can be used to a depth of approximately 10 feet which would be useful for swimmers who like to swim to a beat.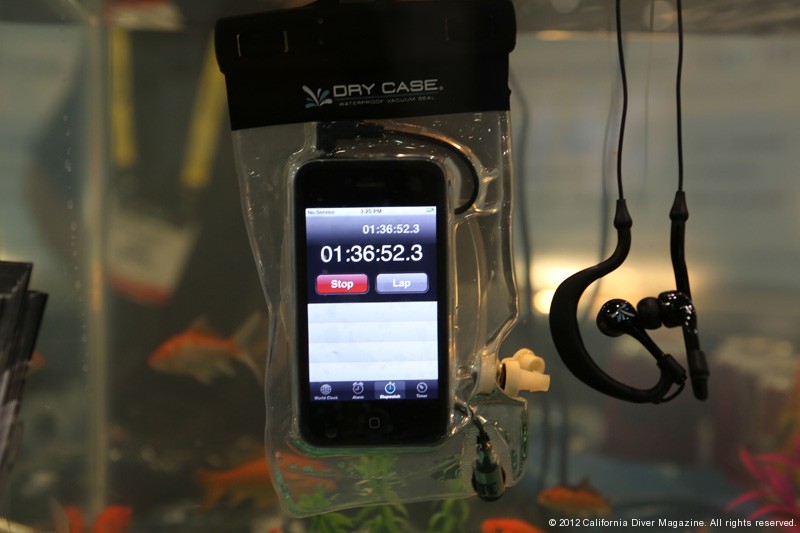 The Drycase shown above is for cell phones or iPods, but they also make a larger version for tablets, such as your iPad. While it has been tested with an iPhone down to 100 feet, the depth will be limited by the crush depth of the phone, so it's not recommended. But if you're seriously addicted to your phone or iPad, this is a great way to allow you to use it in your hot tub, on the beach, kayak, or just about anywhere.
For more information on the DryCase, visit their website here.
GoPro's New Hero3 Camera – Now with WiFi control and iPod App
GoPro has of course created one of the coolest cameras ever which have allowed adventurists and weekend warriors alike to create and share dramatic first-person perspective videos of their favorite sport. This year, they're taking their cameras one step further with the new Hero3.
The Hero3 comes in 3 editions: White, Silver, and Black. We took a look at the Black edition at today's show, and it's really an incredible camera.
The Hero3 Black films video at 1080p at 60 frames per second, 960p at 100 fps, at 720p at 120fps. It can even shoot high-resolution 4K video at 15fps. Still photos boast 12 megapixels with up to a 30 fps burst speed. And while those are some impressive digits, what's really cool is the Wi-Fi.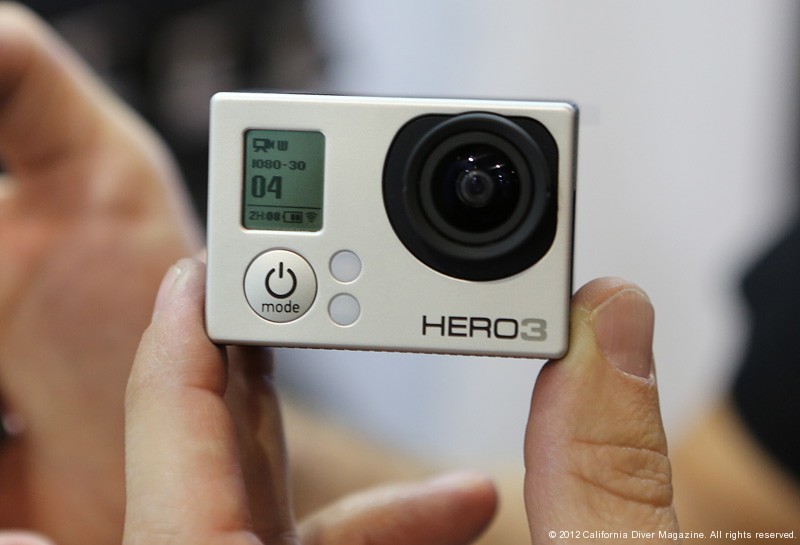 The Hero3 cameras have built-in WiFi capability, which means most of it's functions can be controlled remotely with an app on your phone or tablet. The video seen by the camera can also be previewed on your phone now so you know exactly what you're shooting, which is a huge plus if the camera is mounted somewhere inaccessible. Changing resolution, frame rates, mode, starting or stopping, and changing the mode is now at your fingertips.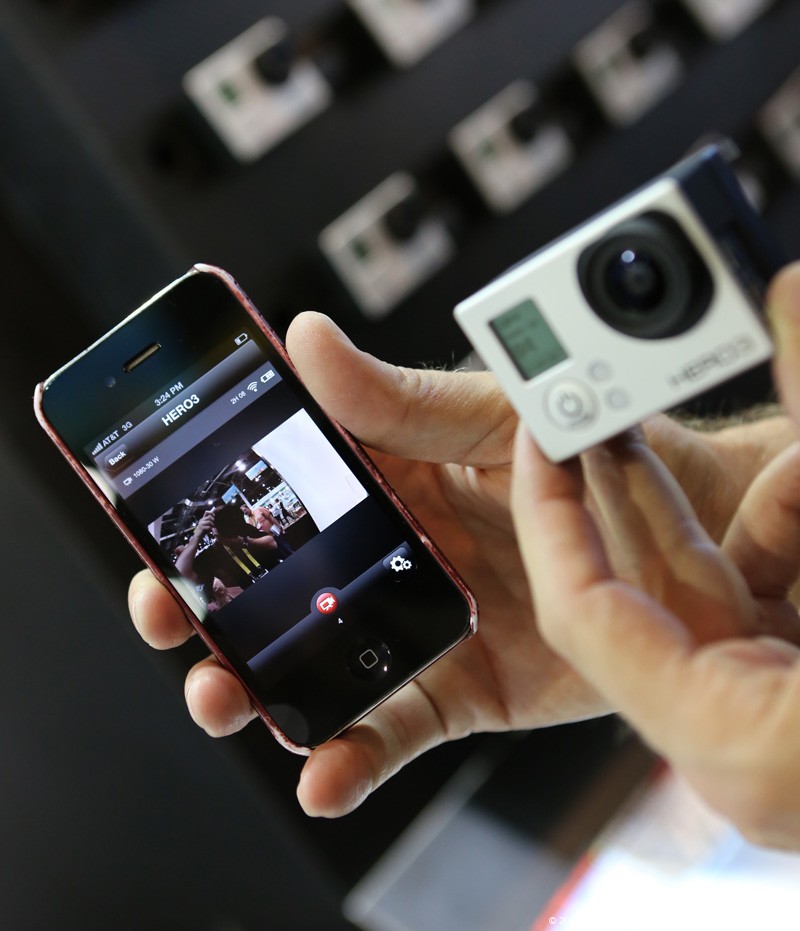 But wait – there're more. The new Hero3 cameras can also take simultaneous photo and video, and continue to support time lapse photography with intervals of 3, 5 and 10 seconds. New advanced camera settings include video looping, continuous photo, simultaneous photo and video capture, and manual white balance.
The Hero3 cameras all offer WiFi and most of the features listed above; with the Black version you also get a WiFi remote (otherwise it's a $79.99 accessory), 4K resolution, and better low light performance.
We'll be doing a followup story soon on the new line of GoPro cameras with much more in-depth information, but for now, prepare to buy one. GoPro's website can be found here.
Luminox Deep Dive watch
We had a request on our Facebook page to be on the lookout for a cool new dive watch – and I found one today. There are many different watches by Luminox and other companies here, and I'll cover more options tomorrow. But I chose this particular watch to show because I want it.
The Luminox Deep Dive series watches come in blue or black, and features 25 jewel automatic movement, a helium escape valve, patent-pending crown protector and bezel lock, a double thick sapphire crystal, and of course Luminox's famous tritium lighting, which always glows in the dark. This is a watch that will last a lifetime, looks great, and built for even the most extreme environments. The Deep Dive series watch retails for $2100.
To read more on the Luminox Deep Dive series watches, visit their website here.
Kona Honu Divers
While they've been around for a while and may not considered "new", I have to give a nod to Kona Honu Divers and Captain Glenn. He's one of the strongest promoters of diving in Hawaii and runs a great operation on the Big Island. If you're thinking of diving Hawaii, give Glenn and his crew at call at (808) 324-4668.
Kona Honu Divers offers dive training, full gear rentals and sales, great boat diving, and guided shore dives.
Glenn will now put together complete dive packages for groups of 6 or more divers – a great opportunity for a dive club, shop, or just getting a group of friends together. To read a few words from his satisfied customers, click here. You can book a trip, check out photos, and learn more about Kona Honu divers by clicking here.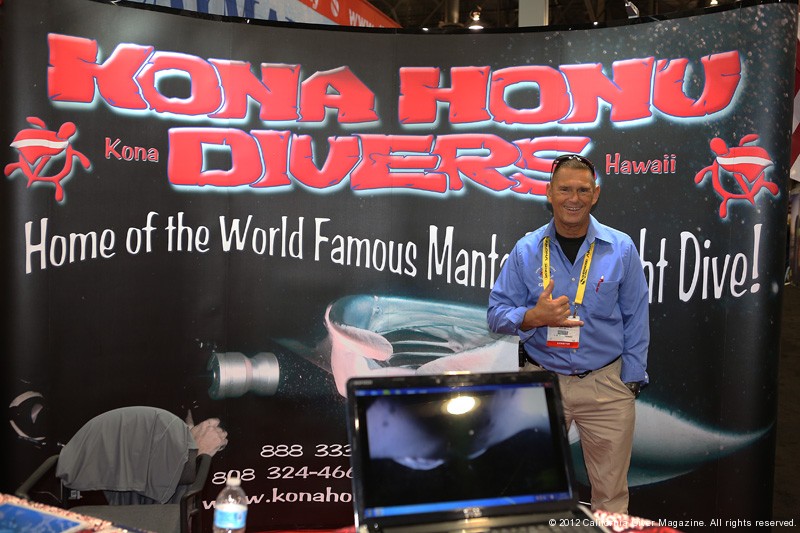 For more news, photos, and gear, click here to visit the next page of our DEMA Show coverage…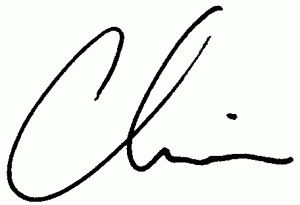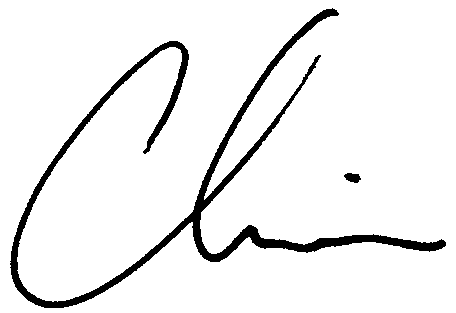 _________________________________________________________________________________________________