We first introduced the Aqua Sketch Dive Slate after seeing owner Mark Hagan at the Santa Clara Dive Show in 2012. Mark created an innovative new dive slate that has pre-printed information on an 8 foot long piece of vellum, which scrolls through the slate by turning two large knobs at each end. The scrolls either come pre-printed with information such as a pre-dive checklist, fish ID charts, student skills checklists, etc. or with a blank piece of vellum which can be written on underwater. It's a very functional and unique product that everyone from instructors to research scientists may find useful underwater – the equivalent of carrying an 8 foot long dive slate with you on every dive.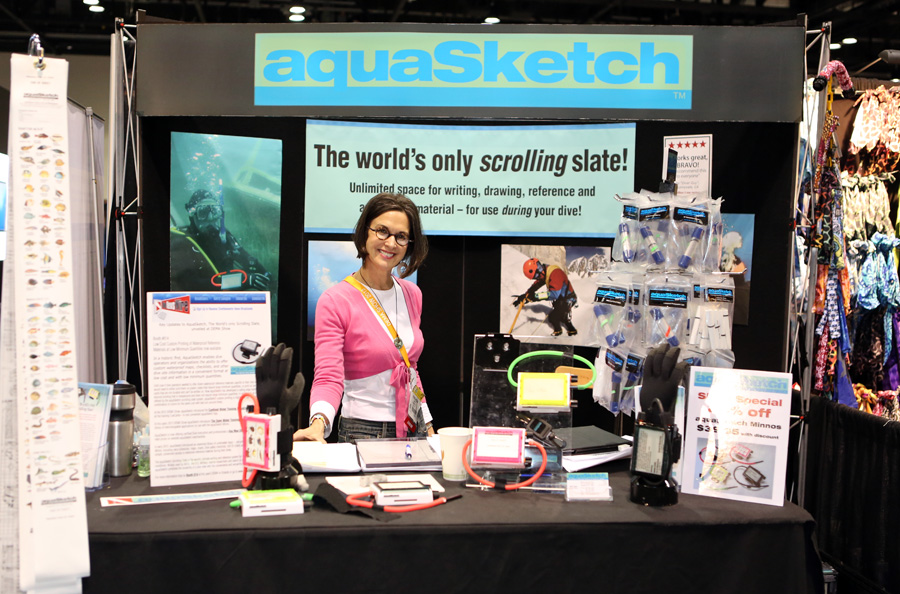 We bumped into Mark and the Aqua Sketch team at the DEMA show last week and glad to see that the Aqua Sketch is taking off in popularity  – certification agencies, dive resorts, and the scientific community have all embraced his unique tool and divers from many different backgrounds are finding it to be a very useful tool. Here's Mark at the DEMA show telling more about it (Click to watch):

The newest evolution of the Aqua Sketch offers more "Apps" (pre-printed scrolls available in 18+ subjects) as well as a new system that allows apps to be digitally printed onto the vellum. Custom apps can now be designed online through their "Custom App Designer", and they'll send you your own custom-designed app within 7-10 days.
If you take notes underwater, need to reference informational materials, or need a place to take a lot of notes, the Aqua Sketch is certainly worth checking out. You can read more about the Aqua Sketch on their website at www.aquasketch.com and find one in local dive shops as well.