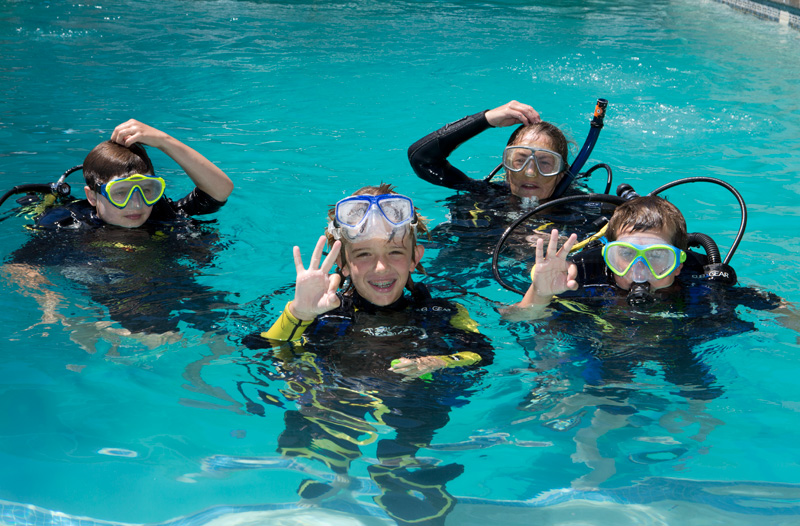 Pinnacles Dive Center's annual scuba camp in Novato was another success this year, and the kids "love scuba!"  This camp is designed to create a gateway for kids who want to learn and explore the ocean. Not only do campers learn scuba, but they also learn many water safety skills. Other skills and knowledge that Pinnacles tries to establish are skin diving equipment usage, ocean environmental concerns and marine life. The kids get to experience Scuba diving on the final 2 days of the 4-day class.
This 4-day camp is for boys and girls who are aged 8-14, with one additional advanced camp where kids 10 and older can receive their PADI junior scuba diver certification. Final checkout dives for the advanced camp take place at Lake Tahoe.
The staff at Pinnacles said that when kids come and try Scuba, there is a new energy that arises. The camp attendees are so happy to be there while they sound and look ecstatic during the entire day of scuba diving in their 12-foot pool.
PADI instructor Jennifer Kimberly gave all of the campers challenges. One of the challenges was for the campers to go underwater, take off their mask, put it back on, and clear it. All of them had success. That skill is pretty impressive for kids 8-14. "(The camp) is very rewarding," said Jennifer.
The camp is so successful because the kids love scuba and something new that they can try during their summer vacation. The camp is a hit for the campers and for Pinnacles Dive Center, and they hope to keep it successful for many years coming.