On the last day of 2011, I joined Captain Mike Minard  aboard the Silver Prince dive boat in Monterey for a day of winter diving. With the sun up and air temperatures in the 60's, it was some of the nicest diving weather that Monterey has to offer – at any time of year.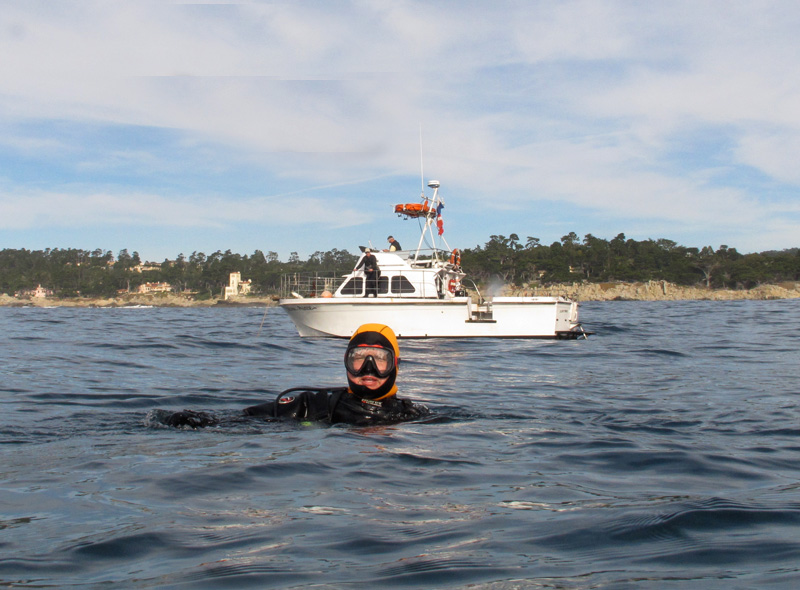 The Silver Prince is a 36' twin diesel Uniflite, and while it can accommodate up to 15 divers, there were six of us onboard today. Captain Mike brings 20 years of experience diving the Monterey area and always provides a safe, pleasant experience for divers on the Silver Prince. I've been out on the Silver Prince several times with him and signed up for this charter on Friday (just up one day in advance) to take advantage of the nice weather and to try out some new equipment.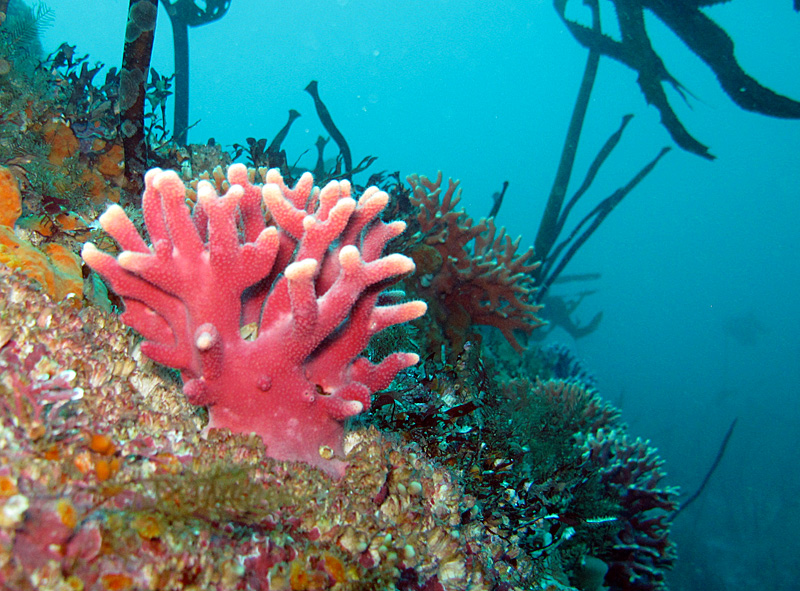 For our first dive, we headed south to Carmel. Conditions just outside the Monterey Bay were a bit on the bumpy side with some decent size rolling swells coming in from the West, but by the time we rounded the corner and pulled into the Carmel Pinnacles Marine Reserve area, it was quite calm, sunny, and the water a nice deep blue color. We maintained a holding pattern for a bit while the Beach Hopper gathered their divers, pulled anchor, and allowed us to pull into position.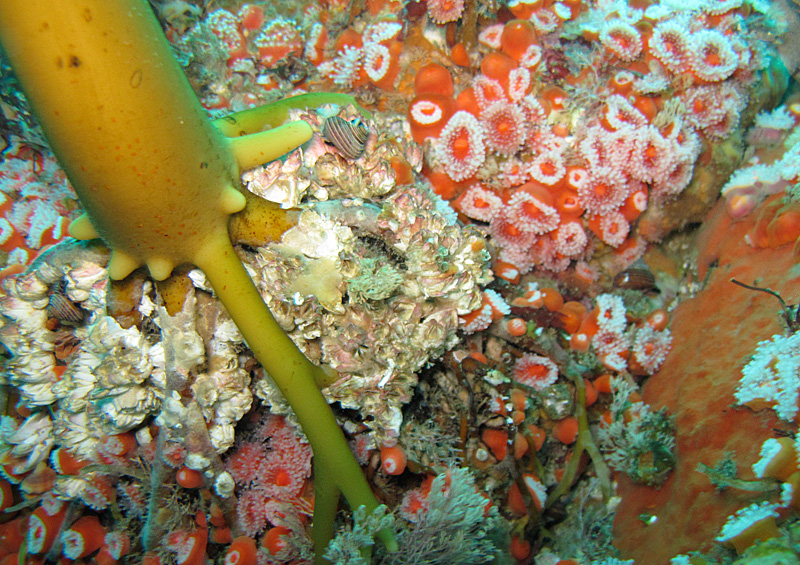 Descending down the anchor line in buddy pairs, the visibility appeared to be about 40 feet looking down the line, and we met up with the anchor at 60 feet. There was moderate to heavy surge here, so we worked our way down to about 90 feet to try to get out of it, then work our way back upwards as the dive progressed.
The rocky reef here, especially at the deeper depths, have areas of abundant pink and purple hydrocoral (if you go, be sure to bring a light). There are also patches of colorful strawberry anemones and sponges, rockfish jellys, and nidibranchs living between the cracks and deeper fissures. Visibility on the bottom was 25-40, fairly surgy due to the incoming swell, but totally diveable and enjoyable. I managed to snap a few photos with my Canon G12 to share.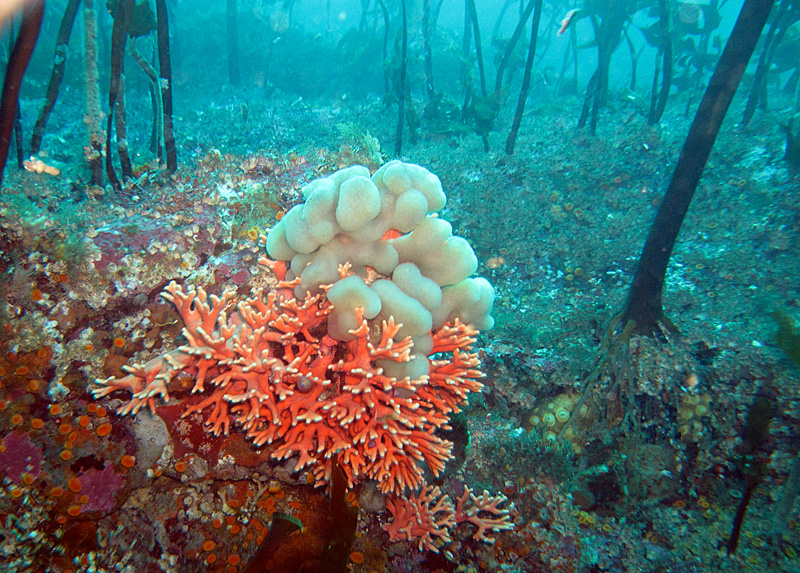 Based on his experience and the current conditions, Captain Mike discussed with us our options for the second dive and divers and crew chose to head back to the protected Monterey Bay and dive at Hopkins Deep Reef, a popular site within sight of the harbor, located directly off of Hopkins Marine Station. The reef itself is a large granite reef that runs mostly parallel to shore with depths about 60-90 feet. Different from our first dive site, the rocks here are mostly smooth and rounded. The key attraction here are the giant Metritidum anemone which are clustered over the reef, which can be easily spotted from a distance due to their bright, reflective white color. We also encountered several large ling cod, rockfish and crab. Visibility was in the 20-30 foot range here today, with almost no surge. It's a great dive site, within easy reach or the harbor and protected within the bay.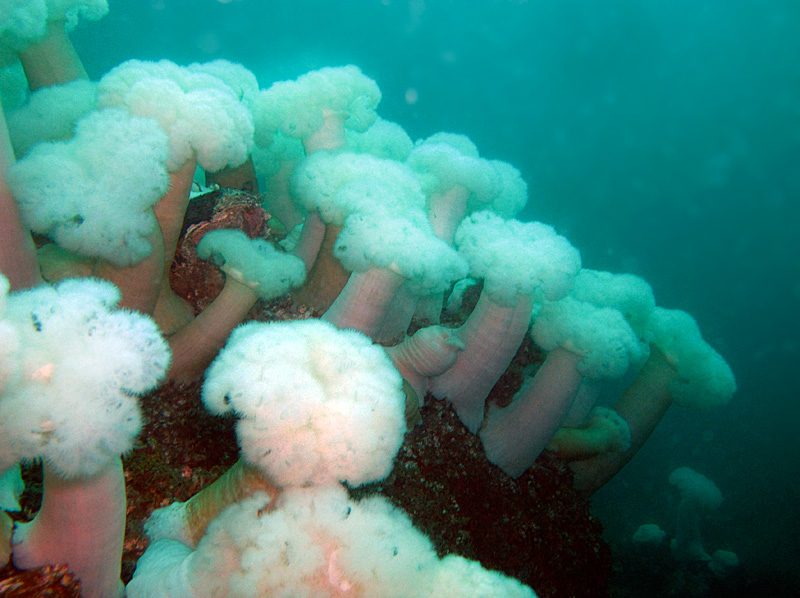 All in all, Saturday, December 31 was another great day of diving in the Monterey Bay. If you have time to go, especially while the weather remains calm, now is the time. You can check their schedule and book a trip with Silver Prince Charters at www.silverprincecharters.com, or give them a call at (831) 204-0539 for more information. It's truly the best time of year to dive here!
Happy New Year!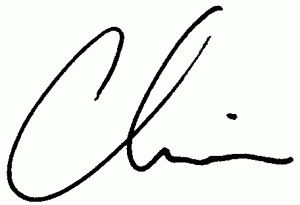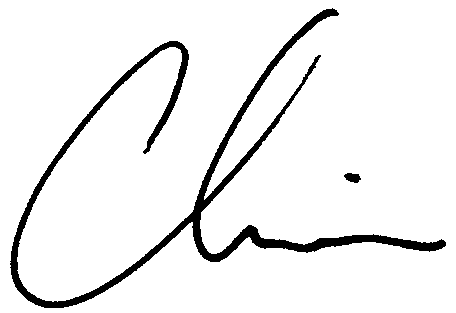 – Chris Constantine
___________________________________________
Thousands of other divers would love to read about your latest dive.  Send us some photos and trip report and we'll post it on our website! Just email them to info@californiadiver.com.
___________________________________________
Subscribe to California Diver Magazine today and read about more great Monterey-area dives in each issue!