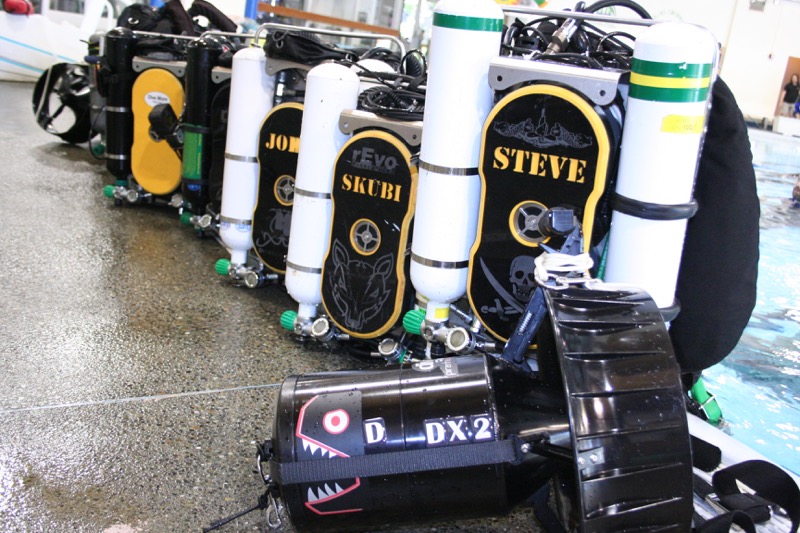 On a rare 95 degree day in western Washington, when many were out enjoying the hot sun, a group of Northwest dive enthusiasts were braving the hot confines of a side room at the Mt. Lake Terrace Pool and Rec Pavillion near Seattle, Washington for an in-depth look at closed circuit rebreathers (CCRs), what they are, how they work, and why they would want to dive with one.
Led by legendary CCR instructor Dr. Mel Clark of CCR TEC, the demo started out with a presentation about closed circuit rebreathers, their benefits and their downsides. With plenty of time padded in for questions and answers, the participants were able to get well versed in rebreather basics, including a whole new diving vocabulary with terms like counterlungs, DSV (dive surface valve), and OPRV (overpressure relief valve).
After the slide presentation, Mel took the group right into the guts of rebreathers by dissecting a few of the more popular rebreathers, this was a fantastic chance for the participants to see exactly how the various models were put together, their differences and their individual features up close and personal.
With the show and tell part of the demo completed, the class took a quick break for lunch and then it was on to the most anticipated part, the pool session. For this, Mel had 10 rebreathers available to try-out in the pool; the aforementioned units in the show and tell section were joined by another Meg, four more rEvos, and an Optima.
To get 10 top-end rebreathers on hand to demo is a small feat in itself, to get another 12 CCR trained dive staff to assist with the demo is real tough, to get them all together in the same pool at the same time? For Mel it was simple, put out calls to her local CCR dive buddies and past students and ask them to bring out their personal units. Many of these assisting dive supervisors have been diving rebreathers for a number of years and have hundreds of hours on their units, bringing a great level of personal experience to the pool.
Ever wanted to give a rebreather a try? Maybe a rebreather demo day is the perfect way for you to find out the how, what and why of a rebreather.
Big thanks out to Mel Clark and the crew at CCR TEC, the dive supervisors and also out to Dive Xtras for putting on a great day of fun.
Story and photos by Tim Lund
Photos taken with Canon Rebel, Iphone 6 and Sealife Micro HD.