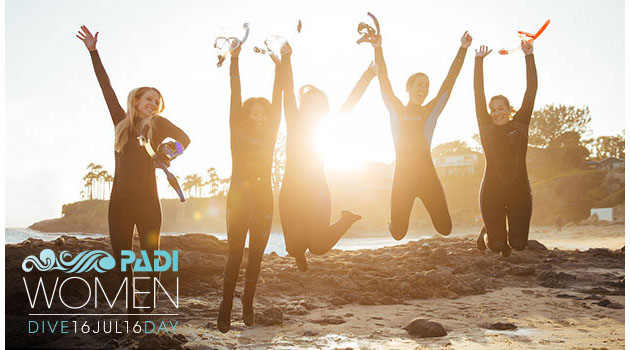 PADI has just announced the second annual PADI Women's Dive Day, which will take place on Saturday, July 16 2016. PADI Members, industry icons and recreational divers – both male and female alike – will take part in events scheduled across the globe intended to narrow the gender gap in diving.
According to the "Diving Equipment and Marketing Association 2014 Diver Study," females account for only 35 percent of open water divers and just 23 percent of divers in continuing education courses. By coming together as an industry to celebrate women in diving, PADI hopes to strengthen and grow the female diver community, attract new women to the sports of scuba diving and freediving, and motivate existing female divers to get back in the water and continue their dive training.
The 2015 launch of the organization's Women in Diving campaign, and its adoption by PADI Dive Centers and Resorts, showed tangible results in its first year. PADI female certifications increased noticeably in 2015, narrowing the gender gap by more than one percent over 2014, the largest year-over-year change in the past decade.
Last year's inaugural PADI Women's Dive Day garnered international support from PADI Members, media and thousands of female divers (many of whom were joined by their families and male buddies). In just its first year, PADI Dive Centers and Resorts planned more than 335 events in 65 countries on all seven continents for PADI Women's Dive Day. Events included everything from shark adventures in the Bahamas and female-led PADI Rescue Diver and ReActivate® courses in the Philippines, to swims in mermaid fins in New Zealand and divers donning Mary Poppins attire in France.
Consumer media buzz for PADI Women's Dive Day 2016 kicks off on March 8 in celebration of International Women's Day. A series of blog articles, social posts and videos featuring inspirational testimonials from female PADI Professionals and Divers will lead up to July 16 2016, culminating in thousands of divers of every level rallying together to encourage more women to take the plunge.
Interested in taking part? Contact your local PADI Dive Center or Resort or visit padi.com/women-dive after March 8 2016 to find an event near you.
PADI Dive Centers and Resorts, visit the PADI Pros' Site to learn more about hosting an event or add your activities to the PADI Women's Dive Day 2016 event locator.
.