Scott Cassell's "new" 35-year old submarine
Here is a fun interview by the Mythbuster folks that were attending the MAKER FAIRE.
The Maker Faire  is an event created by Make magazine to "celebrate arts, crafts, engineering, science projects and the Do-It-Yourself (DIY) mindset".  The Maker Faire showcases the amazing work of all kinds and ages of makers—anyone who is embracing the do-it-yourself (or do-it-together) spirit and wants to share their accomplishments with an appreciative audience.
This year's faire in San Mateo was held May 21-22, and featured more than 600 "makers" who showed off their projects, including Scott Cassell, who showed off his "new" 2-man submarine, above.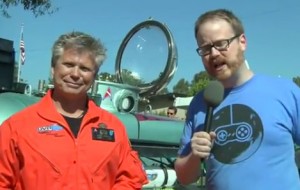 &nbsp
&nbsp
Related posts we think you'll like: