The largest combined watersports show on the west coast featuring outdoor adventures, destination travel, lifestyle, and apparel is coming to downtown Seattle next weekend. The 2015 show takes place April 11-12 at Seattle's Pier 91. This event features outdoor adventures, destination travel, lifestyle, and apparel, and brings the worlds of surf, stand up paddle, scuba diving, kayaking, waterski and wakeboarding together under one roof.
There is plenty here for divers and some great giveaways at the show, with the grand prize a free dive trip to Palau.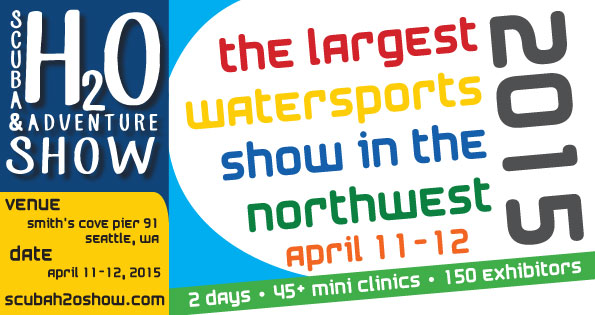 Notably, this year's show will also be honoring two trailblazers in the scuba industry: Annie Crawley and Jim Willoughby.
Annie Crawley has been chosen this year for the PNW Diver of the Year Award. She instills passion for the aquatic environment and everything in it, cares deeply for people while inspiring all to love, understand, and protect our blue planet. As an award winning author, photographer, filmmaker, inspirational speaker, professional PADI Master Scuba Instructor, and educator she is committed to bringing a voice to the ocean. She works as the Director of Beach Camp at Sunset Bay.
Jim Willoughby is a true pioneer in diving: an extraordinary leader, teacher, mentor, and storyteller, and will be the recipient of this year's Pioneers Award. Over the decades, he has trained thousands of diving students in basic, advanced, instructors, and underwater photography; started the Vancouver Pescaderos dive club; worked with other pioneers such as Stan Waterman, Ron and Valerie Taylor, and John Stoneman. His work in training handicapped people to enjoy the blue world, service as the first to teach a NAUI diving  instructor course, and producer of TV's "Diver's Den" further cements his legacy in the annals of the scuba industry.
The Scuba and H2O Adventure show will feature over 150 exhibitor booths on two floors and a heated "demo" pool where attendees can paddle, scuba, and test drive gear. Parking is easy and affordable, and nearby hotels offer great amenities.
For more information on this year's Scuba and H2O Adventure show please click here.