It's a typical summer morning on the Monterey Peninsula—puffy gray clouds drifting in a light breeze; little fits and starts of sun making tentative appearances in the dawn sky. I still see the faint profile of the moon, as well as a fading star or two, as we make our way south on Highway One, the Pacific Coast Highway. The car is relatively quiet. No excited chatter about the dives we plan to do today. Instead, muted talk radio is playing in the background and one sleepy diver is snoring lightly, head pressed against the window. The rest of us are trying to maximize our caffeine intake before we arrive at the dive site and have to start lugging out our tanks and suiting up.
——————————————————————————————
Story by Brianna Politzer Stevens. Photos by Harry Wong
——————————————————————————————
We pass by a hotel with an oversized U.S. flag on a pole stationed in front of it. I notice the flag is mostly drooping—the wind gently tossing it a bit here and here. I take this as a sign that the cove is likely to be calm and flat today, making for good visibility and a pleasant dive.
I point the flag out to the car's driver. He nods in acknowledgement, and we continue our quiet ride down the coast. We pass Carmel, and I get a glimpse of Monastery Beach—one of the most challenging dive sites in the area. Previous experience tells me that if I see white caps at Monastery, Point Lobos is likely to be a bit of a churned-up dive, as well.
But today, Monastery looks like a pond—flat and glassy; not a single white cap in sight. "Nice," I think to myself. All signs point to a good day ahead.
Finally, we reach the turn for Point Lobos State Reserve. We're a little early, so we take our place in the line of cars and trucks, some with small fiberglass or inflatable boats in tow. The line hasn't started moving yet, and some divers are standing outside of their cars, chatting, drinking coffee, comparing cameras and dive computers.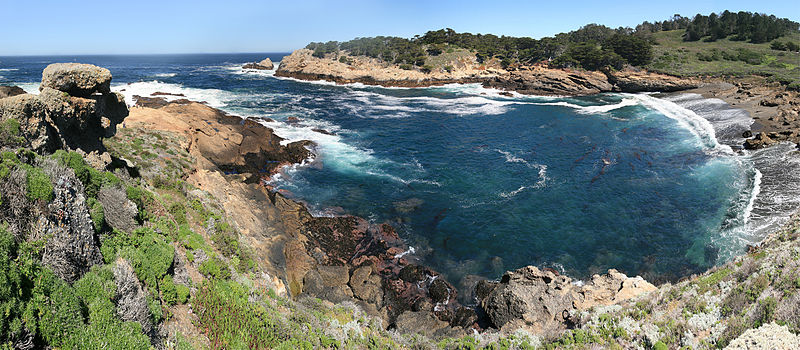 Point Lobos State Natural Reserve (Click to enlarge)
And then the ranger finally opens the gate and starts to check in two-person dive teams, collecting the park "use" fee of $10 per car and an additional $5 per boat. The teams have reserved and paid for their dive permits in advance via the park's online dive-reservation system. The park limits the number of divers that can be in the water on any given day—ensuring that there is parking and gear space for all (and that there isn't excessive underwater traffic).  The line moves somewhat slowly, and we begin to discuss the day's dive plan as we wait for our turn.
Finally, we're through the gates, having had a quick chat with the ranger about today's conditions. We find a spot for the car, and I hop out to have a look down at the sweeping view of Whaler's cove. It's definitely looking like a good day.
I glance down at the boat ramp, which appears bright green and covered with algae. It's bound to be slippery. Fortunately, the tide is high enough that we'll be able to float—rather than walk—down the ramp, minimizing the opportunity to slip and fall while toting 75 pounds or more of gear.
As we suit up, we discuss our dive plan—first a horseshoe-shaped route around the outer edge of the cove, poking our heads into the kelp, shining our lights into the nooks and crannies of the rocky reef. Our second dive will take us out further past the pinnacles, two underwater peaks of rocks ringed by a base covered with nudibranchs, starfish, and other colorful life.
Because Point Lobos is a state reserve, there is no fishing here. In fact, divers are prohibited from taking anything at all out of the cove, ensuring that there is plenty to see and enjoy. I hang motionless in the water as a school of blue rockfish swim by me; hover over a white metridium anemone that resembles a large head of cauliflower.
The water is chilly today—a crisp 49 degrees. But my dry suit is faring well. No annoying little leaks allowing cold trickles of water down my back or my chest. As I kick out toward the south (away from the cove), I can see that the visibility is opening up to about 20 feet or so, ensuring that we will get an eyeful today.
We explore Middle Reef, just northeast of the boat ramp, poking our heads into the multitude of nooks and crannies, shining our lights, eyeing everything from nudibranchs to Leopard sharks. Though Middle Reef is only a short swim from the boat ramp at a depth of 20' to 65', the variety of marine life is quite impressive.  Fifteen minutes later, we kick back towards the west, meandering through the kelp patches and taking a good look at The Worm Patch—an expanse of pebbly sand covered by long white worms— easily recognized by its large mound shape.
Twenty minutes later and we are back on shore, munching on cookies and comparing notes about the first dive of the day. We relax in the mid-morning sun for about an hour, until we're ready to venture back in for dive number two.
For our second dive, we decide to kick further toward the mouth of the cove. It's a bit of a swim, but we end up at the Three Sisters—three large, peaked rock structures. At this point, the depth has increased from about 30 to 50 feet within the cove to about 100 feet. The visibility here is better, too. Today, it's around 40 feet, affording us a clear 360-degree view of everything around us. We signal to each other using the "okay" sign . . . everyone is having a great time.
Forty-five minutes or so later, and we're kicking back towards the boat ramp, where the tide has receded a bit. We take off our fins and gingerly climb back up the ramp, heavier now that we're wet, carefully avoiding a fall. Most injuries at Point Lobos (and there are very few, in general) occur here, on the boat ramp.
It's been an unusually calm, clear day at the reserve. We feel lucky. Other days have disappointed us with churned-up silt and low-vis conditions. Today was about as good as it gets.
Tired, we peel off our wetsuits and drysuits and begin to pack up our wet, salty gear. Again, there's another lull in our chatter as we finish up with the most difficult part of the day, re-assembling our various dive paraphernalia and getting ready to make the drive back up north. Someone unveils a reserved thermos of coffee, which feels warm and comforting after our soak in the cold waters of the cove.
"Did you get any good shots?" one diver asks another who has toted a large camera around with him throughout the dives. "Yeah! I saw that rockfish school and got a shot of a male sheephead," the other answers. "Cool—did you see that cabezon? I thought I saw an otter, too!"
Soon, the car becomes quiet once again, and the driver flicks the radio to music. We head back up the coast, sated and content. We'll be back again next weekend.
Making dive reservations at Point Lobos
Tip: Make your reservations early, as spots fill up fast.
The park opens at 8 a.m., closing 30 minutes after sunset.
Only dive teams of two are allowed. One diver can make two reservations per trip (a total of four divers), provided that each reservation is under a different name.
The fee is $10 per diver, or $20 per two-person team. Reservations are non-refundable. If the person named on the reservation is not present on the dive date, the reservation will not be transferred.
Parking (use) fees are $10 per car, plus an additional $5 per boat.
To make a reservation, use the park's online reservation system at https://www.pointlobos.org/DiveReservations.html. You should receive a confirmation email with payment information within three days of your submission. If you do not receive confirmation, do not assume you have a reservation.
You can also make a reservation by calling the dive-reservation coordinator at 831-624-8413 between 8:00 am and 3:00 pm, M-Tu and Th-F.
Reservations are accepted up to two months in advance.
Tips for Advanced Divers
Point Lobos is also a technical diver's paradise—especially if you've got a diver propulsion vehicle (DPV). Special training is needed to dive the area safely, but the rewards are worth it. There are several nice sites that range from 100 to 170 feet in depth. Twin Peaks is one favorite, with depths up to 160 feet. One year, a five-foot-long Humboldt Squid was spotted at this site.  Navigation of the Twin Peaks site is relatively straightforward (but going out with someone familiar with the route first is recommended).  A more challenging site—due to its remoteness—is Montana, at a maximum depth of 170 feet. Besides the abundance of marine life at these sites, the intricate pinnacles and rock structures are visually awe-inspiring. Maps can be found at: http://www.baue.org/lobos_maps/index.php
.
——————————————————————————————
Story by Brianna Politzer Stevens. Photos by Harry Wong
——————————————————————————————
.