Spare Air has expanded their product line – and life-saving air capacity – of their signature life-saving device.
"We heard customer feedback wanting a larger Spare Air and the wait is finally over – now Spare Air is available in 3 cylinder sizes = 1.7 cu.ft, 3.0 cu.ft. and now 6.0 cu.ft."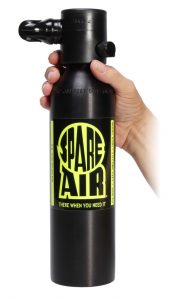 Just launched at DEMA, the new 6 cubic foot Spare Air model has all the same features as a regular Spare Air unit:
It's refillable from scuba tank or air compressor
Easy to travel with
Comes with refill adapter, holster & safety leash
Designed for self-rescue, or to pass off to another diver in an emergency
Weighing less than 4 pounds it is the lightest weight system on the market and priced competitively compared to other similar systems.
Due to its popularity, the initial run of 600PK is already sold out but more will be available within 2 weeks.
For more information, visit Spare Air online at:  www.spareair.com or email them at info@submersiblesystems.com