Scuba divers to follow weekly clues to locate golden treasure bars hidden in secret locations for a chance to win a $5,000 Sport Chalet Gift Card
For the fourth consecutive year, Sport Chalet, a specialty sporting goods retailer, is inviting certified Scuba divers to participate in its annual Treasure Hunt dive. Six sunken treasure bars valued at $5,000 (1), $3,000 (2) and $1,000 (3) in Sport Chalet gift cards will be hidden in diving locations for Scuba enthusiasts to discover. From June 25 through July 18, Sport Chalet will release one clue every Tuesday and Thursday to help divers identify the secret locations of the six gold-painted treasure bars hidden off the northern and southern California coasts and in a special marine destination in Arizona. Clues will be posted online and in all participating Sport Chalet retail stores.
In conjunction with TUSA, Aqua Lung, BodyGlove, Sherwood, Mares, Pelican, Watershot and Atomic Aquatics, Sport Chalet will officially drop the treasure bars into the water on July 8, giving its loyal Scuba fans from all over the states of California and Arizona a chance to collect several clues before diving for the riches. As time goes on, the clues will become more descriptive.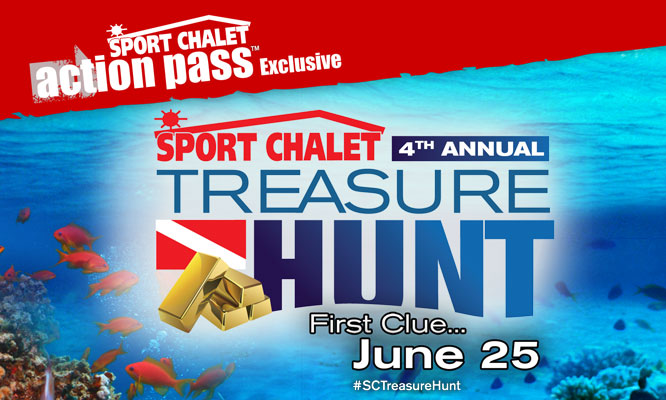 The treasure bars will be clearly marked with instructions to bring the bar to any local Sport Chalet store to claim the reward. Only one prize may be won per person. Depending on the bar found, the prize awarded will be a $5,000, $3,000 or $1,000 Sport Chalet gift card.
The official timeline for the Treasure Hunt dive is as follows:
— June 25: First clue posted online and in all participating Sport Chalet retail stores.
— June 25-18: Clues posted every Tuesday and Thursday online and in-store.
— July 8: Official start of the contest. Treasure Bars are placed underwater in secret locations.
— July 21: Last day of contest; any unfound Treasure Bars are taken out of the water at end of the day.
— July 28: Last day for any prizes to be claimed at local Sport Chalet store.
For safety reasons, participating divers must be at least Open Water level certified, 18 years of age or older and a Sport Chalet Action Pass member.
"At Sport Chalet, our experts aim to bring our customers extraordinary experiences when it comes to pursing the sport they love. Sport Chalet was built on diving, so our Treasure Hunt dive is the perfect opportunity to reward our customers for their loyalty to not only Sport Chalet but also to the underwater world of Scuba diving," said Craig Levra, Chairman and Chief Executive Officer of Sport Chalet.
As a leader in the Scuba industry, Sport Chalet's professional team of experts has more than 40 years of experience under its belt, along with an unrivaled passion for Scuba. With more than 44 PADI 5-Star Dive Centers located throughout Arizona, California, Nevada and Utah, no other dive center certifies more divers.
With 32 on-site pools across retail locations, Sport Chalet offers customers the opportunity to experience the sport first-hand on the third Saturday in the months of July, August and September from 2-6 p.m. with its free Discover Scuba Diving Experience. During the course, customers are able to endure the Scuba experience while wearing all the gear and learning basic underwater breathing skills. Additionally, Sport Chalet sells and rents top-of-the-line Scuba equipment and houses in-store experts to help Scuba athletes with any question they might have, whether it's gear or sport related.
For more information about the 4th Annual Treasure Hunt and official contest rules, visit http://www.sportchalet.com/category/scuba/scuba+treasure+hunt.do