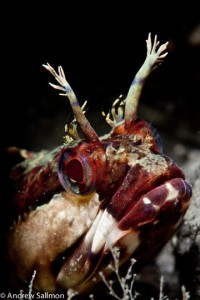 I have been diving for 18 years, the past few with a camera stuck to my face shooting mainly macro subjects, and I have a confession to make: I have never been to Komodo…or Lembeh…or Papua New Guinea…(you get the idea!)  It isn't for lack of interest, and I have done plenty of international travel…basically, I have no excuse.
Go ahead and laugh.  I am OK with it – I live in San Diego and am constantly in the water.  To most, San Diego diving means Wreck Alley, kelp forests, playful sea lions, and boat trips to Catalina or San Clemente. Veteran local divers, however, know that we have our own macro mecca – La Jolla Shores.
The "Shores" is well known to the thousands of divers who get their open-water certifications there every year, many of whom never return, believing that the sand they see during their initial dives is all it has to offer.  Well, if you dive a lot in these parts, sooner or later, you'll wind up revisiting the "Shores", and you'll hopefully realize that its sites are packed full of marine life – if you know where and how to look for it.
I won't minimize the fact that diving the Shores can be uncomfortable sometimes…you must walk, geared-up, from your car to the ocean, power through the surf, and then perform a long surface swim.  I'd not recommend anyone take first crack at it on a hot Saturday afternoon in August (parking is horrendous, it is not fun to carry gear in 90-degree heat while outfitted for 50-something water temps, and you may be stopped by beachgoers asking about your gear, whether you are leaving so they can take your parking spot or – my favorite – if you anticipate seeing some fish).  However, watching the surf reports and arriving early alleviates some of these issues – and you can be on your way to discovering that a single local dive park can provide a nearly unlimited variety of marine life.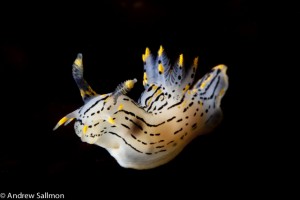 Main Wall and Vallecitos Point: This is arguably the most-dived site of La Jolla Shores.  The sloping wall runs north-south except for the point itself which runs east-west.  Initially the entire area just looks muddy, but a closer look yields abundant fish life, including varied rockfish, painted greenlings, gobies, and blennies.   Nudibranchs are easy to spot, especially colorful Spanish shawls (Flabellina iodinea) and Stern's aeolids (Facelina sternsi), and lobster can be found in the crevices of the wall.  Sheep crabs and large halibut can be found on top of Vallecitos Point, and if you're lucky, you can spot a bat ray flying past.  I have encountered giant sea bass here on multiple occasions, as well.  Kelp sometimes grows on top of the point, and when it does, bizarre Melibe leonina nudibranchs sometimes inhabit the leaves – watching these beautiful invertebrates feed is incredibly mesmerizing.  Plan on an average depth of at least 50 or 60 feet here, but realize that you can go much deeper, if you wish.  For photographers, choosing a lens here can be tough – on most days, a 60 or 100 mm macro lens will fit the bill, but when the visibility is good, I have had a few great dives here with wide-angle and fisheye zoom lenses.
Detritus Field: It seems wrong to use a cold, scientific name for the site that is my hands-down favorite at the Shores (and one of my favorite sites worldwide)…a place many Shores veterans lovingly call the "Crap Patch." I have spent weeks diving this small spot.  As the name implies, this "site" is an area where the local currents deposit a tangle of kelp and other plant life.  Few dives sites look as uninspired from above, but this place is truly a macro paradise, full of kelpfish, horn sharks, octopus, and shrimp.  In addition, when the water is colder, this place is nudibranch central station: I have spotted more than 10 species on a single dive here! This area occupies a gentle slope, and depths range from about 60-80 feet. Macro lenses rule this place –a 60 mm lens will work well, though my choice is usually a 100 mm lens with a diopter for shooting teeny critters.
Secret Garden: This area can be tricky to find and eludes many divers who have done hundreds of dives at the Shores…and it is deep, starting at about 105 feet.  However, divers that arrive here successfully are rewarded by its signature feature: red gorgonians that emerge abruptly from the bottom, which is shaped like a shallow bowl.  It is alive with rockfish and painted greenlings, and the gorgonians sometimes yield Tritonia festiva nudibranchs and – for the lucky – simnia snails.  Because of the depth, visibility can be quite good, and I have spent dives here happily shooting both macro and wide angle.  (Caution –this site is tough to find without performing some underwater navigation at depths exceeding 80 feet, which limits no decompression time.)
North Wall: When the surf is low and the visibility reports are decent, nothing beats a dive at this site.  The North Wall curves off of the Main Wall towards the west and is topped by a large sand flat at a depth of 50 feet. Tube anemones and gorgonians populate this wall, as do occasional moray eels and the requisite gobies, rockfish, lobsters, and nudibranchs.  The sandy plateau on top of the wall often contains wide-angle subjects – I have found shovelnose guitarfish commonly enough that I am no longer surprised to see them here.
While this list covers my four favorite sites at La Jolla Shores, there are many more great dive sites here. I have also left out one of the best parts of diving here: the swim back in – which can yield stingrays, juvenile giant sea bass, and jellyfish.  The final bonus? The post-dive options: my dive buddy and I can hit one of the nearby cafes in La Jolla village for breakfast…though more commonly, we head home to download images and plan our return.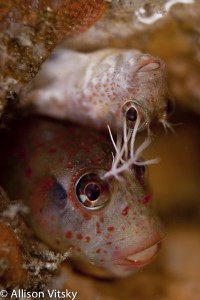 Visiting La Jolla Shores
La Jolla Shores boasts a large – and FREE – parking lot, but we'd still recommend arriving early, especially on warm weekends and during the summer months.  Restrooms and showers are provided, as is a grassy area (Kellogg Park) with picnic benches and a children's playground.  Adjacent to the restroom facilities on the south end of the park is a large, crushed glass mosaic map depicting the underwater topography, fish, and sites of the dive park.
While the "Shores" are quite well protected from high surf, wave height can be a factor when diving here, and many an experienced diver has sacrificed a fin or mask to the Pacific Ocean.  Surf forecasts (Wave Watch and Wet Sand are commonly used sites) can help you avoid a wasted trip.
What to bring: Sunscreen, beach mats/towels, food, dive gear including tanks and weights, your aerobic fitness to complete a long surface swim, and patience to deal with the summer crowds.
What not to bring: Alcoholic beverages are illegal, as is all fishing (including spearfishing and lobstering).  We highly recommend leaving nothing whatsoever of value in your vehicle, as break-ins are common.
Words & Photos by Andy Sallmon & Allison Vitsky
——————————————————————-
Links:
http://www.sandiego.gov/park-and-recreation/parks/shoreline/kelloggpark.shtml
http://web.mac.com/lajollashoresmap/LaJollatheMap_/Main_page.html