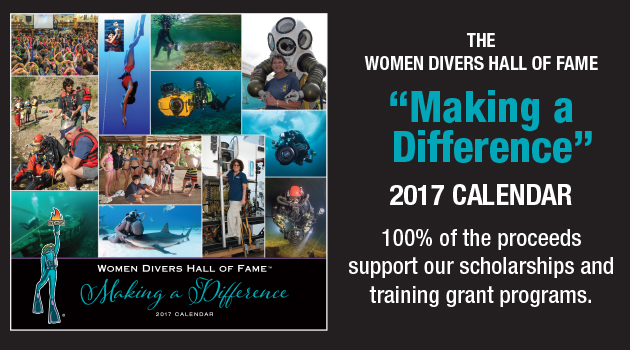 The Women Divers Hall of Fame is making a difference in the world as exemplified by the members and scholars featured in the calendar, and also by the member roster on the inside back cover.
This year's calendar features Women Diving Hall of Fame Members Amanda Cotton, The Great Lakes shipwreck explorers (Tamara Thomsen, Pat Stayer, Valerie van Heest, Georgann Wachter and Joan Forsberg), Cristina Zenato, Annie Crawley, Shirley Pomponi, Ph.D., Jill Heinerth, Becky Kagan Schott, Mehgan Heaney-Grier, Margo Peyton, Andrea Zaferes, Michele Hall and Sally E. Bauer, M.D. Each calendar is 12″ x 12″ (opens to 12″ x 24″) and is individually shrinkwrapped.
The calendars are $15. plus $6 for shipping.
Calendars may be ordered online at www.wdhof.org  — follow the link on the home page (designate that your donation is for calendars). Calendars will also be available in the Women Diving Hall of Fame booth at the upcoming DEMA show